Marine protection consultation ends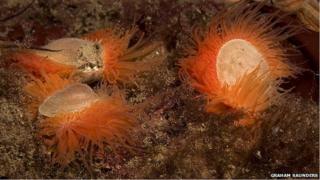 A consultation on plans to create a network of Marine Protected Areas in the seas around Scotland is closing.
The protected areas are intended to safeguard marine species and habitats, though some environmental groups said the plans did not go far enough.
There have been 33 potential Marine Protected Areas identified around Scotland, ranging from Fetlar in Shetland to the mouth of the Clyde.
The Scottish government will study the results of the 16-week consultation.
Environmentalists said Scotland's seas had suffered from centuries of pollution, overfishing and damage to the seabed.
'Cautious support'
The aim of the MPAs is to give fish, corals and sponges a chance to return to better health.
In addition, the initiative will provide a guide for the development of the offshore renewable energy industry in Scotland.
The proposed protected areas account for 12% of Scotland's seas.
The Scottish government said that together the MPAs could play an important role in delivering a healthy, productive and biologically diverse marine environment for Scotland.
Fishermen have traditionally been suspicious of the concept of MPAs but the Marine Conservation Society in Scotland said that the needs of the fishing industry, and those of conservation, were not so far apart.
And, while the Scottish Fishermen's Federation appeared to cautiously support that sentiment the RSPB has been more critical of the plans.
They said the proposed MPAs would do little to protect Scotland's struggling seabird population.