Typhoon Haiyan: Scots raise more than £2m for appeal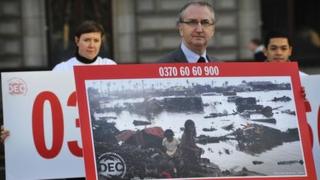 More than £2m has been raised in Scotland in the first two days of an appeal to help victims of a massive typhoon in the Philippines.
A total of £1.45m has been raised in public donations to the Disasters Emergency Committee (DEC) appeal.
The Scottish government has pledged a further £600,000.
Thousands are feared dead and millions more are in desperate need of food, water and shelter following Typhoon Haiyan, which struck last Friday.
Across the UK, £23m has been raised so far and the funds are said to be going directly to help those hit the typhoon which devastated large parts of the Philippines.
'Good start'
Norman McKinley, chairman of the DEC appeal in Scotland, said: "The appeal has got off to a good start, and we thank all Scots who have already donated to help those affected by the typhoon.
"But the scale of this disaster is such that we need people to continue to donate in order to help us respond and provide relief where it is desperately needed."
The leaders of Scotland's main political parties have backed the DEC emergency fund.
First Minister Alex Salmond said: "The Scottish government shares the worldwide concern about what has happened in the Philippines and the heartbreaking scenes of the emerging humanitarian crisis that followed in the typhoon's wake.
"So many people have been moved to act in support of the injured and displaced. As a government, we are donating £600,000 to the Disasters Emergency Committee's urgent appeal to support the lifesaving work of aid agencies in providing clean water, food, shelter, medical and other supplies.
"These supplies are essential to stop disease catching hold and making a tragic situation even worse."
Lottery petition
Labour leader Johann Lamont said: "The sheer scale of this disaster is difficult to comprehend but our thoughts are with the people of the Philippines at this tragic time.
"I would urge Scots to dig deep to help our aid agencies working on the ground get food, clean water and other supplies to all those in such desperate need right now."
Conservative leader Ruth Davidson, Lib Dem leader Willie Rennie and Scottish Green co-convener Patrick Harvie have also backed the appeal.
Typhoon Haiyan hit the eastern seaboard of the Philippines, moving across its central islands into the South China Sea. Catastrophic damage was caused by 170mph gusts of wind and a storm surge that raised sea waters by 20ft.
Royal Navy aircraft carrier HMS Illustrious has been sent to help. It will arrive in the disaster zone by 25 November, replacing HMS Daring which had been deployed to the Philippines.
Meanwhile, a petition has been signed by 30,000 people calling for Tuesday's unclaimed £12m prize from the EuroMillions draw to be donated to the relief fund.
Donations to the appeal can be made by visiting dec.org.uk, by calling 0370 60 60 900 or by texting "SUPPORT" to 70000.