Andy Murray sued by former adviser David Cody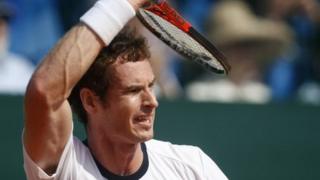 Details of a financial action brought against Wimbledon champion Andy Murray and his parents by a former adviser have emerged in a High Court judgment.
Proceedings against Murray, his mother Judy and father William have been brought by David Cody.
Mr Cody was appointed in 2003 as their exclusive adviser in relation to Murray's professional tennis career.
A deputy High Court judge in London gave a ruling on a preliminary issue relating to costs.
David Donaldson QC ordered Mr Cody, who lives in Texas, to provide security of $30,000 (£18,600) in order to continue with his claim.
Giving the background, he said the Murrays entered into a written agreement with Mr Cody in December 2003.
Sponsorship deal
He said Mr Cody was to receive 10% of gross payments from all commercial and sponsorship agreements entered into during, or renewed, after the term of the agreement, which was for an initial period of two years.
The judge said that on 25 April 2005 Mrs Murray gave six months' notice terminating the contract.
Negotiations in April and May 2006 resulted in an offer to Mr Cody of £65,000 as a settlement, which he had accepted.
But Mr Cody claims he was not given the full details of the renewal of a sponsorship deal with RBS before agreeing to the settlement.
The Murray family had retained Patricio Apey to act for them in the negotiations with Mr Cody, "in which they did not personally participate".
Security of costs
Mr Cody alleges that he was told by Mr Apey during the negotiations that a two-year sponsorship deal signed in 2004 with RBS had not been renewed and that it was uncertain that RBS would continue sponsorship.
The judge added: "The defendants respond that Mr Apey said no such thing and that it is clear from two emails from the claimant... that he was well aware of the renewal and had negotiated overtly on that basis."
The defendants applied for security of costs, he said, "on the basis that Mr Cody is resident in Texas".
Part of Mr Cody's argument against the order was that "the modest level of his assets is such that any order for security would stifle his claim".
But the judge said he was not satisfied that Mr Cody "will be unable to find 30,000 (dollars) and in consequence be prevented from prosecuting this claim further".