Visitscotland launches new Brilliant Moments tourism campaign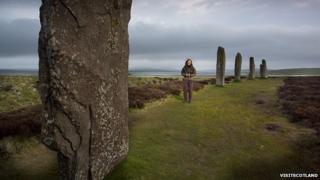 A new £5.3m marketing campaign to attract visitors to Scotland next year has been launched.
VisitScotland's initiative includes a £3m advert designed for the internet and for broadcast on television.
The tourism body said its Brilliant Moments campaign aimed to inspire people from across the world to visit.
Olympic medal-winning cyclist Sir Chris Hoy and musician Nicola Benedetti feature in different versions of the advert.
It highlights events such as the Ryder Cup at Gleneagles, the golf competition's junior tournament at Blairgowrie, the Commonwealth Games in Glasgow and the Year of Homecoming.
Places that appear include the Ring O'Brodgar on Orkney, as well as Portsoy and Speyside.
'Global events'
VisitScotland has not given a forecast about how many more visitors it expects to attract, or how much money they will spend.
First Minister Alex Salmond officially launched the new campaign.
He said: "2014 is a great year for Scotland - one full of brilliant moments - the Ryder Cup, Commonwealth Games and the second Year of Homecoming.
"Scotland welcomes the world next year and this campaign shows that our people, our natural landscapes and our culture are tremendous adverts in themselves."
VisitScotland chairman Mike Cantlay said the idea behind Brilliant Moments was real people.
He added: "Yes, the campaign draws strength from the global events taking place in Scotland in 2014, but also demonstrates the friendliness and welcoming nature of people living in Scotland."