Scottish family's plea over crew arrest in India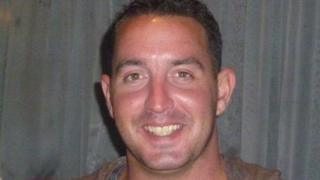 The family of a Scottish man accused of gun crimes along with 34 others by Indian authorities wants the British Consulate to make more jail visits.
Billy Irving, 33, from Argyll, was one of six British anti-piracy guards among a 35-strong crew of a US-owned ship detained in India on 12 October.
They are being held on suspicion of unauthorised possession of 31 assault rifles and 5,000 rounds of ammunition.
Mr Irving's brother, Jamie, said there was no reason to detain the whole crew.
He said: "The fact that the whole crew has been detained, and the legal situation that they've been involved in, should boil down to the buck stopping with the master of the vessel."
He added: "But then it's Indian law and we totally respect that."
Since his arrest, the family have had no contact with Mr Irving, who spent 10 years in the Parachute Regiment.
They have called on the British Consulate to make weekly visits, instead of one every three months, to ensure the men's situation is closely monitored.
Apply for bail
AdvanFort, the company the men work for, said the allegations of the weapons and ammunition being unauthorised were "preposterous".
In a statement, it said it had provided all necessary documentation and certifications to the Indian authorities.
The firm has applied for bail, which has been turned down twice.
Its said: "Our legal representation in the UK and India is currently preparing to petition the high court to have our case heard concerning bail after a lower court initially rejected it.
"The MV Seaman Guard OHIO was simply transporting AdvanFort's professionally vetted and decorated military veterans through the Indian Ocean to their next assignment."
According to AdvanFort, the vessel "provides an accommodations platform for AdvanFort's counter-piracy guards between transits on client commercial vessels transiting the high risk area".
Mr Irving's brother said the work involved adding pirate deterrents to ships, such as barbed wire around the sides.
"Visually as a deterrent that's enough to scare the guys away," he said.
"99% of the time it's not much action for him."
The Indian government has yet to formally charge the men with any crime, and under Indian law they should be charged or released within 90 days.
Mr Irving's local MP, Alan Reid, said he would pursue the matter through both diplomatic and political channels.