Living with Lockerbie: On the ground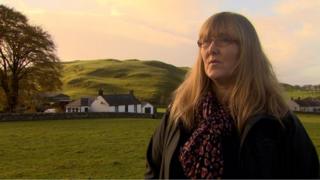 The bombing of Pan Am flight 103 over Lockerbie killed 259 people on the plane and 11 people on the ground in the Scottish town of Lockerbie. The nosecone and cockpit of the plane, as well as almost 100 bodies, fell on the land of Tundergarth Mains farm.
David Gould says it was a very bright light and a noise like "a steel girder being dragged down the road" which alerted him to the extraordinary events in Lockerbie on a dark winter's night 25 years ago.
Lesley Smith describes hearing a "loud crack of thunder" as she sat eating her supper at about 1900 GMT in the farmhouse at Tundergarth.
The immediate thought of Mr Gould was that Chapelcross, the nearby nuclear power station, had exploded.
He says he went back into his house in Park Place and went up into the timber part at the top which would have offered less protection.
"With a nuclear blast you don't want to survive," Mr Gould says.
He stood at the window and saw large flaming chunks of unidentified objects raining from the sky.
Mr Gould witnessed the main explosion which would destroy Sherwood Crescent and a big chunk of the fuselage of Pan Am flight 103 which landed on Rosebank Crescent.
"I remember an oxygen cylinder bounced off our roof and lay spinning around in the road," he says.
Mr Gould then assumed it was a collision between two military jets but when he went up to Rosebank Crescent he saw the first of the dead bodies.
"It was a young man wearing jeans. Looking at the other casualties, they were also in civilian clothing. It began to dawn on people this was a civilian plane," Mr Gould says.
At Tundergarth Mains, Ms Smith's sister came to the door and said a plane had come down in her field.
She also assumed it was a military jet but when she went to investigate "we were very shocked to discover a plane an awful lot bigger than that".
In the pitch dark of the shortest day, it was difficult to see the devastation which lay in the field, although they could make out the nosecone and cockpit from the plane.
"There were quite a few bodies in the immediate area in and around the cockpit," said Ms Smith.
"There obviously was some bodies inside it. The pilot and the co-pilot were still in there.
"I don't know how to describe the utter disbelief.
"You still think now, looking back, if what you saw was real. Sadly it was."
As well as wreckage from one end of the farm to the other, there were about 100 bodies found on their land.
The following morning Ms Smith and her father still had livestock to feed on a neighbour's steading.
"We came up the drive to an absolute mass of police and press," she said.
"That was when it hit home how enormous the situation was.
"Watching them search in a great long row up the farm is something you don't expect on your own doorstep."
She added: "Once you have been part of a tragedy like that everything else seems to pale into insignificance."
Mr Gould, who worked as a social worker with the local council, was drafted in to help with civil emergency work.
There was nothing which could be done for the victims on the plane but he helped to set up a counselling centre in the church hall which tried to assist people on the ground and relatives of the victims who quickly began to turn up in Lockerbie.
He also remembers carrying out tasks such as retrieving pension books from Sherwood Crescent for OAPs who had been removed to safety.
"At drawer level everything was normal. There was the pension book that had been placed there last Thursday.
"And then you looked up and at about eye level the wall stopped and you just looked up into the sky.
"The whole top of the house had been just peeled off and yet down below everything was normal."
Mr Gould believes that the events of Lockerbie led him to suffer the symptoms of Post-Traumatic Stress Disorder (PTSD).
"How did it affect my life?," he says.
"If I'm honest I lost my marriage and therefore my home.
"I very nearly lost my children, for whom I had to fight through the courts.
"I certainly lost my job and for quite a while I lost my sanity.
"It took many years to actually recover from the events of Lockerbie."