Scottish independence: Alistair Darling criticises 'slapdash' White Paper figure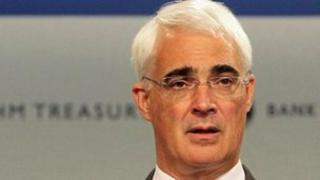 Alistair Darling has claimed the Scottish government is misleading voters with a "slapdash" economic plan.
The leader of the Better Together campaign was responding to proposals outlined in the independence White Paper, which was published on Tuesday.
Speaking at a press conference in Edinburgh, Mr Darling said he was "very, very angry" at the figures used.
The Scottish government defended the document, saying the former UK Chancellor was "rattled".
Mr Darling said: "The Scottish government is misleading people into believing that, frankly, you can get whatever you want and there would be no cost to it.
"They're also being highly misleading in saying on a single sheet of paper that this is the financial basis on which you can plan for the next 50 years.
"You would not get away with it if you were launching a manifesto for a five-year parliament, let alone a manifesto for the next two or three hundred years."
'Flawed'
Mr Darling added: "I'm always careful about what language I use because I think it's important that we conduct this debate in a civilised manner and I do not use inflammatory language.
"But I am very, very angry they're using figures that don't stand 10 minutes examination. Normally it takes several days for a budget to disintegrate. This didn't last a night.
"It's inaccurate, it's flawed, it's incomplete and it's not a basis on which take a decision on the future of our country."
The White Paper document states that an independent Scotland would retain the pound and the Bank of England as the lender of last resort
It also pledged to transform the childcare system by entitling children to 30 hours of free care each week, and to scrap what it described as the "bedroom tax".
A spokesman for Deputy First Minister Nicola Sturgeon said: "Alistair Darling's rattled and feeble response to the White Paper says it all: the No campaign are rapidly running out of ideas, and have nothing positive to say.
"Mr Darling needs to take a look at his own grasp of figures before he questions the Scottish government's.
"He claimed the childcare promise we have made could be implemented under devolution, suggesting additional taxes raised would come back to Scotland, when the reality is any additional tax raised would go straight into the Treasury's coffers.
"He also said that it would take five or six years for us to abolish the Bedroom Tax. No, it won't - we will abolish it immediately post-independence.
"And he even denied he had said that an independent Scotland using the pound would be 'logical' and 'desirable'. Yet we all heard him say it. All of this shows that Mr Darling's own sums don't stack up and we can't believe a word the No campaign say."