Scottish independence: Lochhead makes one billion euros EU funding claim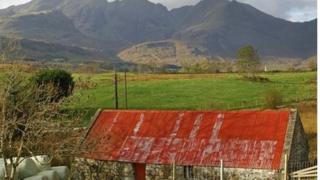 The rural affairs secretary has claimed Scottish farmers would have received a 'billion euro boost' if Scotland was already independent.
Richard Lochhead said EU funding which an independent Scotland would receive is instead shared among the UK.
Lib Dem MSP Tavish Scott dismissed the figure as "assertion and spin".
The comments follow the Spanish prime minister's claim that an independent Scotland would have to apply for EU membership.
Speaking at Gaindykehead Farm in Lanarkshire, Mr Lochhead said: "If Scotland had been independent during the most recent EU farming talks we would have qualified for an extra one billion euros of funding - Scotland's billion euro boost.
"This money would have benefited our farmers and the Scottish economy as a whole - including our rural communities and the whole farming supply chain."
An EU ruling states that, by 2019, no member state would receive farm payments of less than 196 euros per hectare - approximately £175 - which the Scottish government estimates will be worth one billion euros over the next six years.
Mr Lochhead also said an independent Scotland would have been able to negotiate "hundreds of millions of euros" for EU rural development funding, which was shared among the UK.
"Instead of that funding coming to Scottish farmers, in line with the wishes of the European Union and Scottish Parliament, it was divvied up across the whole of the UK," he said.
Mr Lochhead's comments come after the Spanish prime minister Mariano Rajoy suggested that Scotland would not automatically be part of the EU.
Mr Scott, the Scottish Liberal Democrats rural affairs spokesman, accused Mr Lochhead of misleading Scottish farmers.
He said: "The cabinet secretary is trying to pull a fast one here.
"If Scotland leaves the UK we will leave the EU as well. We would have to negotiate our way back in, meeting the individual demands of each of the 27 member states on the way."
He added: "What Scotland's farmers and fishermen need is facts from the nationalists not assertion and spin.
"Sadly when it comes to the EU it would seem the biggest threat to funding for our farmers comes from the SNP's independence plans."