Scottish independence referendum: Your questions answered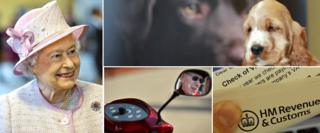 Following the Scottish government's publication of its White Paper on independence, BBC website readers have been letting us know what questions they want answered.
The issues of citizenship and whether Scotland would appoint a governor general post independence are two of your latest queries.
Voters in Scotland go to the polls on Thursday, 18 September, next year when they will be asked the "yes/no" question: "Should Scotland be an independent country?"
1. William Grady asks: "If there is a yes vote for Scottish independence will we still have the Motability scheme?"
The Motability Scheme enables disabled people to use their government-funded mobility allowance to lease a new car, scooter or powered wheelchair. It also manages the UK government's Specialised Vehicles Fund to help people who need a heavily adapted car.
The Scottish government says it would work with Motability, its partners and the UK government, to ensure the scheme continues in an independent Scotland.
Motability, the charity responsible for the car scheme, says that until the referendum result is known, eligible disabled people in Scotland will continue to have the service.
It assures recipients that if changes were to happen they would do so over a number of years.
2. Helen Kinnon asks: "It seems to me that a large number of UK government jobs are based in Scotland. Will those offices be closed and the jobs transferred to the remaining parts of the UK?"
The White Paper proposes that many of the 30,000 civil servants employed by the Westminster government in Scotland would help deliver services post independence.
The Scottish government pledges that any pension entitlements and terms and conditions of employment would be honoured.
It also argues that some civil service workers may continue to work for the UK government if their knowledge and skills were still required.
In June this year, the UK government published a list of 200 organisations it believes may need to be replicated in an independent Scotland.
The list, compiled by the Scotland Office, includes government departments such as the Foreign Office and the Ministry of Defence and extends to bodies such as the BBC and Met Office.
The Scottish government said the list showed a "cluttered" UK public sector and that many functions could be taken into existing Scottish organisations.
3. John P asks: "If Scotland did become independent in 2016 and say five, 10 or 20 years down the road the SNP loses power to a pro-unionist Scottish party would there be another referendum to vote on joining back to a United Britain?"
While technically feasible, nothing like this has ever happened - and the chance of the scenario becoming reality has been ruled out by both sides of the independence debate.
Both Alex Salmond and Nicola Sturgeon have repeatedly stated that a vote for independence is not a vote for the SNP, or indeed for any political party - it is for the Scottish public to decide the country's future.
When Alistair Darling launched the Better Together campaign in June last year he said: "If we decide to leave the United Kingdom, there is no way back.
"We cannot give our children a one-way ticket to a deeply uncertain destination."
4. Peter Ashton asks: "Should Scotland attain independence, will all the Scottish MPs currently in the Houses of Parliament still be allowed to vote on matters relevant to England, Northern Ireland and Wales?"
In the White Paper the Scottish government proposes that Scots would elect MPs in the 2015 UK general election, to represent Scottish constituencies at Westminster until 24 March 2016 - the date the SNP-led Holyrood administration proposes Scotland would become independent.
In July, the Independent newspaper reported that ministers were considering giving MPs in England new powers to scrutinise and amend proposed laws on health, education and transport.
One suggestion was that legislation could be subject to an extra level of scrutiny by England-only MPs. However, there are no concrete plans to change the system.
5. John Colligan asks: "My dad was born in Scotland in 1912 but I, as an American, have not been able to qualify for a British citizenship. Would I then be able to qualify as a Scottish citizen?"
According to the Scottish government's White Paper you would be able to apply for Scottish Citizenship "by descent" if you have a parent or grandparent who qualifies for Scottish citizenship ie. a British citizen either born in Scotland or resident in Scotland.
A child or an adult can also apply for citizenship if...
they can show have a demonstrable connection to Scotland
and have spent at least 10 years living in Scotland.
Migrants on qualifying visas would also have the option of applying for naturalisation as a Scottish citizen, while British citizens resident in Scotland upon independence and Scottish-born British citizens currently living outside Scotland would automatically be considered Scottish citizens.
6. Irene Fyfe asks: "What will happen to charities that are based in England but serve Scotland? I am profoundly deaf and have a Hearing Dog for The Deaf but their training centres and offices are based down south. Will I still be able to get a replacement when my current dog retires? "
The Scottish government says charities based in England would still be able to operate in an independent Scotland, in the same way as charities currently operate cross-border between the UK and Republic of Ireland.
Hearing Dogs for Deaf People say that it will not be in a position to make any decisions until it more fully understands what the policy of the Scottish government would be regarding charities.
However, it says it makes a lifetime commitment to every partnership it creates between hearing dogs and deaf recipients, and where possible it will continue to support all existing recipients of the scheme.
7. David Colby asks: "The day after Scottish independence Alex Salmond would become one of the queen's prime ministers, 'just like Canada' we've been told. As such he would be required to 'advise' [instruct] her as to whom he would like Scotland's first Governor General to be. Who does he have in mind?"
The Scottish government says there would not be a Governor General of an independent Scotland, as Her Majesty the Queen would continue as head of state with exactly the same status in Scotland as she currently has.
8. Annie McMahon asks: "Will the SNP retain the name SNP and, given it is nationalist and its main aim has been for an independent Scotland would it be left, centrist or a right-wing party?"
The Scottish National Party describes itself as "a centre-left, social-democratic party". It adds that this would remain its position after a "Yes" vote. The SNP also confirms it would retain its current name.
Got a Scottish independence-related question to ask? Send it to us at newsonlinescotland@bbc.co.uk