Scotland's legendary Ecurie Ecosse motor racing team cars up for sale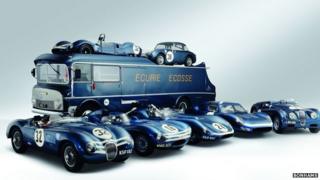 "If you're talking to a motor sport enthusiast," says racing legend Sir Jackie Stewart, "I don't care if they're coming from South America, North America, Africa, Asia, if you talk about Ecurie Ecosse -- they know about it."
The team counted Sir Jackie, who went on to be Formula 1 world champion three times, among its drivers - as well as his older brother Jimmy.
Its achievements included consecutive wins at the famous Le Mans 24 hour race.
The motor racing team, Ecurie Ecosse, was started in Edinburgh in 1951 and blazed an international trail.
On Sunday at the auctioneers, Bonhams, in London, a collection of vehicles from the 1950s and 1960s will be going up for sale. The pre-sale estimate is in excess of £5m but it is hoped that it could realise even more.
The team was started by accountant David Murray, who ran the team from a garage in an Edinburgh mews. His own racing career had ended after a crash in Germany and he was looking for a new challenge.
Ecurie Ecosse's first season was 1952. It started with three Jaguar cars, each owned by its driver. They were painted flag metallic blue, along with the Saltire badge that made them instantly and widely recognised.
The team name was in French because, at the time, it was the language of motor racing.
"In those days if your team had a sort of foreign sound, you got better starting money," says motor racing historian Graham Gauld.
"Remember you had no sponsorship in those days and you depended on the organisers of race meetings paying you to go there and race your car and so he decided that Ecurie Ecosse would be a good name rather than Team Scotland."
These were the days of very strong factory teams and Ecurie Ecosse faced fierce opposition.
"But they were very successful," continues Mr Gauld. "The cars were very well prepared, and they were just determined and went out and did extremely well."
In 10 seasons, Ecurie Ecosse scored some 68 victories, including at Le Mans.
In 1956, the Scottish team had been invited to take part in the endurance race. It was a real step up from anything that they had been involved in up to that point.
"I remember sitting in David Murray's office," says Wendy Jones, who left a job in an insurance company to be the secretary at the offices of the team.
"I said 'where do you think you might come in the race?' 'Well', he said, 'if we're fifth or sixth I'll be delighted', and I said, 'oh good, we'll keep our fingers crossed'."
In fact the team won in 1956 and took first and second in 1957.
Stunning looking
"I was in the car in Princes Street when I heard and the radio was on in the car," recalls Ms Jones.
"And it announced that Ecurie Ecosse had won and I was just absolutely overjoyed."
The excitement and thrill of those fast cars was keenly felt by one Scottish boy, whose brother was already driving for the team.
"I used to go with my big brother, he was older than me, eight years older," says Sir Jackie Stewart.
"But of course as a wee boy of 12 to 14 years of age, with an autograph book in his hand, travelling with Ecurie Ecosse was pretty big time."
Sir Jackie himself drove for the team in the 1960s and credits his experiences there and the exposure he received as having a lot to do with his subsequent rise.
"When you drive for Ecurie Ecosse you're driving for a globally known racing team and they had a wonderful transporter and good engineers, mechanics and people.
"A lot of people would come around at national meetings to see the cars and the drivers and I was one of those drivers and if you do keep winning races for them, then the media are attracted to what's going on."
The original team was wound up in the early 1970s but the team was reformed in the 1980s under new direction and Ecurie Ecosse still races.
Some of the cars from the 1950s and 1960s, now being sold, were driven by Sir Jackie and his brother, while the vehicle transporter inspired a Corgi Toys collectors' model.
"Stunning looking cars" and "amazing history" is how motor racing author, Eric Dymock describes the collection, part of a story which forms a "crucial" legacy.
He said: "David Murray really laid the foundations for all these Scottish drivers who came after them.
"All their careers really stem from the reputation that David Murray gained for Scotland in motor racing."