Put your referendum questions to our panel of comedians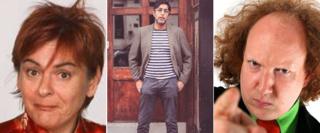 Three comedians will take a lighter look at the Scottish independence debate in our pre-Christmas referendum webcast.
Still Game's Sanjeev Kohli and one of Scotland's best stand ups, Susan Morrison will be in the studio in Glasgow and political satirist Andy Zaltzman will be joining the conversation from one of our London studios.
In our festive special our comedic panel will discuss the funnier side of what is a very serious issue.
Presenter Bill Whiteford will put your questions on wide-ranging topics to the guests.
If you have something to ask Susan, Sanjeev or Andy email newsonlinescotland@bbc.co.uk
Please put "Referendum questions" in the message field of your email.
Scotland's electorate will go to the polls on 18 September, 2014.
Voters in the referendum will be asked the single yes/no question: "Should Scotland be an independent country?"
The interview will be published on BBC Scotland's politics website.