Falkirk Labour: Karen Whitefield chosen after selection row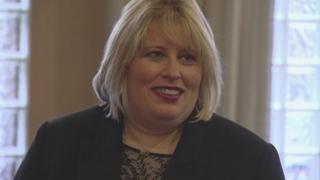 Members of the Falkirk Labour Party have selected Karen Whitefield as their candidate to fight the general election in 2015.
The original process had to be abandoned after allegations of vote rigging by the Unite union.
Also standing for selection were Pam Duncan and Monica Lennon.
The Falkirk seat is held by Eric Joyce, who resigned from Labour after being convicted of assault. He has continued to stand as an independent.
The Labour selection process was suspended after a whistleblower complained that the Unite union was signing up members without their knowledge, to give preference to the union's preferred candidate.
'Strong voice'
The chairman of the Falkirk Party Stevie Deans and the candidate Karie Murphy were suspended from Labour but later reinstated.
None of the original candidates for the selection process made it onto the final shortlist.
The Labour leadership has insisted its inquiry into the situation will not be published because people contributed to it on the condition of their confidences being respected.
Mr Deans was also investigated by his employers Ineos, who run Grangemouth. This led to industrial action from the union which came close to Grangemouth's petrochemical plant being closed.
Ms Whitefield was the MSP for Airdrie and Shotts from 1999 until 2011. She lost her seat to the now health secretary Alex Neil.
She has been an active Labour member since 1988 and worked as a personal assistant to Rachel Squire, MP for Dunfermline West, from 1992 until 1999.
Speaking after her selection was announced, Ms Whitefield said: "I am delighted that Labour members in Falkirk have put their faith in me to fight this vital election.
"We have a hard battle ahead in winning back the trust of the people of Falkirk and it is an opportunity we do not take for granted. I am determined that we will do it by fighting on the issues that matter to these communities."
Scottish Labour leader Johann Lamont said: "Karen will be a fantastic candidate and a strong voice for the people of these communities at a time when they most need it.
"I look forward to campaigning with her and showing the people of Falkirk that Scottish Labour is the party that will stand up for them."