Liverpool Care Pathway to be phased out in Scotland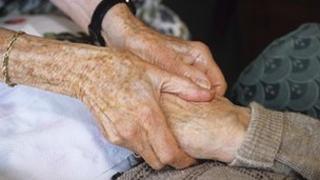 A controversial system of caring for dying patients is to be phased out in Scotland, it has been confirmed.
The Liverpool Care Pathway (LCP) can involve withdrawing medication, food and fluids to patients in the final days and hours of their life.
A review of the pathway in England earlier this year found it had sometimes been "misused" by the NHS.
The Scottish government said new guidelines would be given to health boards next year.
Interim guidance has been issued in the meantime, which the government said placed a strong emphasis on "good, consistent communications by medical professionals with families and loved ones of patients".
The move followed recommendations from the Living and Dying Well National Advisory Group, which had been examining the issue in the wake of the Neuberger review of the LCP in England.
The advisory group concluded that, when used correctly, the LCP had supported good quality care in the last days and hours of life in Scotland.
However, it also recognised that the inappropriate use of the pathway may, on occasion, inhibit the provision of high quality care, and recommended that it be phased out in Scotland over the next 12 months.
A working group will now be established to support the changes required.
Health Secretary Alex Neil said: "While standards of end of life care in Scotland are generally very high, the aim of improving care in the last days and hours of life to ensure that everyone has a dignified death is a priority for the Scottish government and NHS Scotland.
"When the LCP was introduced, the aim was to support the delivery of high quality care by all clinical teams providing care in the final days and hours of life. This aim is as relevant today as it ever was.
"The expert group looking at this issue has recommended phasing out the LCP and setting up a new group to develop an alternative. In the meantime, strong interim guidance will be put in place to ensure that care for those at the end of their lives meets the high standards we demand."
He added: "This will include work to support staff to speak to patients and their families openly and honestly to avoid misunderstandings and distress. Families need to know there is a clear accountability for care and this must be communicated so patients know there is a named GP or consultant taking overall responsibility for care.
"We expect new, comprehensive guidance to be in place within a year."
Distressing picture
The Department of Health (DoH) in England set up its independent review amid fears the LCP was being used to hasten death, to clear beds and save money, and that patients or their families were not being consulted.
The review, led by crossbench peer Baroness Julia Neuberger, applied only to England. The LCP was also recommended as best practice in Scotland and Northern Ireland, while Wales already had its own system.
The Neuberger review took evidence from patients and health staff as well as reviewing literature, and said a "deeply distressing" picture had emerged.
It described patients being left without adequate nutrition and hydration with reports of some people desperately trying to suck sponges used by staff to dab their faces.
One of the major criticisms of the review was that the LCP had become a "tick box" exercise, which did not take the individual patient's circumstances into account and did not always consult properly with relatives.
But the review also found evidence that, when the LCP was used correctly and in consultation with the patient and their relatives, it could help ease the dying process.