Scottish councils and businesses pay thousands hiring celebrities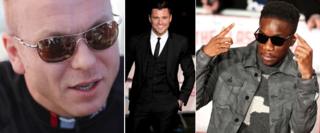 Councils and local businesses in Scotland spent at least £26,000 hiring celebrities for Christmas events.
Reality star Mark Wright was paid £7,000 to turn on the festive lights in Perth and received a further undisclosed fee for an event in Irvine.
However, the research by BBC Scotland found some big names were willing to give their services free, including Olympic cyclist Sir Chris Hoy.
Councils say booking celebrities attracts crowds and boosts the economy.
Wright, who appeared in the ITV2 programme The Only Way is Essex, was just one celebrity booked by Perth and Kinross Council.
The council hired pop band, Eric Faulkner's Bay City Rollers, at a cost of £2,995 and Britain's Got Talent finalists Luminites, who were paid £5,000.
Ian Miller, leader of Perth and Kinross Council, defended the sum of money saying the Christmas event on Saturday, 23 November, attracted thousands to the city.
He explained: "The figures really are astonishing when you look at them — about 90,000 people visited Perth on the Saturday. Footfall was up 73% on last year and on St John Street was up 206%.
"During the peak hour, which was 5pm to 6pm when the lights switch-on took place featuring Mark Wright, we had 26,000 people in the city centre.
"Looking at these statistics, we are very proud of the decisions we took to hire well-known artists that would attract people to the city centre."
However fellow Perth and Kinross Councillor John Flynn believed the expense of hiring a celebrity was not justified.
He told BBC Scotland: "He may have pulled a few more people in but I think it would have been a successful day without Mark Wright.
"I do not think that a personality is as important as the event. I think it could have been anybody who switched on the lights and the people would have come irrespective of that."
In Paisley, local businesses spent £11,000 hiring R&B artist Tinchy Stryder and indie rock band The View to perform at the town's festive lights switch on.
Renfrewshire Council allocated £124,000 of the council's general budget to putting on the event in Paisley, as well as separate light switch-on events in Renfrew and Johnstone.
Former Britain's Got Talent winner Jai McDowall appeared and performed at a light switch on event in Ayr town centre after the scheduled act, former X Factor winner Matt Cardle, was forced to pull out at the last minute.
However, Zisys Events, the production company hired by South Ayrshire Council to run the event, would not disclose how much McDowall or any of the other performers received.
A spokesman for the company explained it would not be comfortable revealing such commercially sensitive information.
Irvine Special Events Forum, a volunteer group funded by grants and donations which also engaged reality star Wright's services at its event, also refused to reveal how much he had been paid.
However, it said it was able to hire Wright because one of its committee members had struck "a special deal" with the reality star's agent.
Ian Clarkson, chairman of the forum and a North Ayrshire Councillor, said the celebrity's services helped to attract 10,000 people to the event in Irvine town centre.
He added: "It was only because the businesses came on board that we were able to have a celebrity. But seeing the way the crowd reacted to Mark Wright convinced me that it was worth while - this time."
Hoy 'honoured'
The BBC found that some big names were happy to help open Christmas events without a fee.
Lennoxtown Primary school's Parent Teacher Association secured the services of Celtic manager Neil Lennon free of charge and actor and comedian Sanjeev Kohli was paid only travel expenses to take part in the Milngavie switch on event run by the area's Business Improvement District.
Edinburgh Council also managed to make savings, with Olympic gold medallist, Sir Chris Hoy, agreeing to attend its £140,000 "Light Night" event, "purely for the honour of turning on the lights in his home town".