Del Amitri's Justin Currie: I don't like playing arenas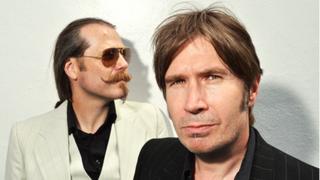 Scottish indie rockers Del Amitri have reformed after 12 years and are to play the Hydro arena in Glasgow on Friday as part of the Celtic Connections festival.
From their first big hit single - Nothing Ever Happens - at the beginning of 1990, Del Amitri were a fixture on music radio and in the charts for a decade.
A string of hits including Always The Last To Know and Kiss This Thing Goodbye made them one of Scotland's best-loved bands.
But Justin Currie, the driving force behind Glasgow band, says that by 2002 they were experiencing the "law of diminishing returns".
He says they were playing to ever fewer people, not selling as many records and failing to make radio playlists.
"When you play at sell-out venues for 10 years and then you start seeing empty seats it is really time to stop," Currie says. So they did.
Currie has made a few solo records but admits he spent long periods over the past 12 years "staring out of the window, playing football or going for walks".
But now the demand for Del Amitri seems to have returned and the band will be playing to about 8,000 people at Glasgow's new Hydro arena, one of the largest venues they have ever played.
Currie says they are pretty nervous about the gig and does not attempt to hide his dislike of the new arena circuit which has grown up while the band have been away.
He says that in the old days record companies would underwrite a band's tour so there was no necessity to make money.
But the record industry has been completely changed by the internet and downloading and the big money is now in playing to large numbers of people.
"So we are all forced through commercial necessity to go into these cavernous concrete vaults and the audience are forced to go into them," he says.
"I'd be lying if I said I was a fan of places that were built out of concrete."
Currie said he went to see Simple Minds at the Hydro soon after it opened and he describes the sound as "a big loud wodge of noise".
"After we saw Simple Minds we thought we should just come on and play a couple of acoustic numbers," he says.
"So we tried that out in rehearsals and then we realised we would be bricking it so severely that it might be a bad idea."
Instead, they have decided to go for a more reflective mood in the middle of the set, a trick employed by Neil Young when he played Glasgow's SECC, a venue described by Currie as "pretty much the worst in the world".
He adds: "Hopefully if the loud rock stuff is banging off the walls in there at least we have got that oasis in the middle to get to. We are not really that experienced in these sorts of venues at all."
Currie says the biggest gig the band did in Scotland was at Edinburgh Castle in the mid-90s which was "a bit of a disaster".
They also found the experience of playing massive sheds in America, while supporting Melissa Etheridge, "pretty demoralising".
Often, he says, they would go on stage in a venue which could hold 30,000 and play to about 100 people.
The Hydro has proved a popular venue for reformed Glasgow bands since it opened in September, with Simple Minds, Wet Wet Wet and Deacon Blue packing it out in its first few months.
Roots festival
Currie says: "Deacon Blue were about 10 times bigger than us and Simple Minds were about a million times bigger than us. They are used to playing these large venues and we aren't. So it is quite daunting.
"I have spoken to other bands that have reformed after a long hiatus and they've encouraged us by saying that the fans carry you through it in Glasgow, so I'm hoping we'll be able to hear the crowd."
The Del Amitri show at the Hydro is part of Celtic Connections but it will be the first time the traditional music festival has put such a large venue in its programme.
And Currie agrees that it is not really a Celtic Connections-style gig.
But why are a band with no link to traditional music appearing at Celtic Connections at all?
Currie says he has done solo shows at the festival before and has a good relationship with its director Donald Shaw.
He adds: "I think of Celtic Connections as a roots festival with a lot of traditional music. That's why it kind of makes sense to see Bobby Womack playing because he is a songwriter.
"The whole thing is based on roots music, which is based on songs and the idea that things are handed down from the past. So I don't fell remotely uncomfortable Del Amitri doing it."
The Glasgow gig will be followed by a short UK tour which ends at Hammersmith Apollo on 7 February.
Currie says the future for the band, whose line-up also includes Iain Harvie, Andy Alston, Ashley Soan and Kris Dollimore, depends on the reaction they get at these shows.
He will be doing a solo tour of America in April but says: "If the tour goes well we'll see what happens later in the year."
Currie, who will be 50 at the end of the year, says he is less "angst-ridden" than he used to be and has less commercial ambition.
"I do have creative ambition," he says.
"I want to make much better records than I have ever made. I don't think I have ever made a particularly great record, so I have got that drive.
"But I don't have that fervour to be commercially successful, which is quite a relief I must say."