California dreaming at Celtic Connections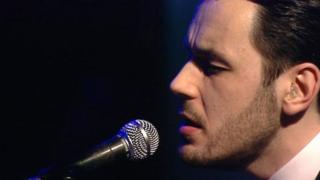 Music from the famous Laurel Canyon scene of 1960s California is the inspiration for a night of collaboration at Celtic Connections.
In the late 1960s, a neighbourhood high above the centre of Los Angeles was home to a generation of musicians whose song-writing is still influencing bands today.
Joni Mitchell, Jackson Browne, The Byrds, the Mamas and the Papas, Frank Zappa, Crosby Stills and Nash, The Eagles and many others inhabited Laurel Canyon and its counterculture hippy scene.
Mitchell lived in the home in the Canyon that was immortalised in the song, "Our House", written by her then-lover Graham Nash.
Her third album, 1970's Ladies of the Canyon, was inspired by the neighbourhood and included three of her biggest songs "Big Yellow Taxi", "Woodstock" and "The Circle Game".
Glasgow musician Roddy Hart has used the music of the fabled LA neighbourhood as the backdrop for a show at the Royal Concert Hall called the Roaming Roots Revue.
Hart began the revue at last year's Celtic Connections when he gathered performers together for a night dedicated to Levon Helm, the late singer of classic Americana act The Band.
The format of the show was likened to an "indie" version of the Transatlantic Sessions, a night of unique collaborations between major artists which has become a popular fixture with Celtic Connections audiences.
The success of last year's revue led to Hart, who appeared with his band Lonesome Fire, being asked to put together another show.
He said: "This year we wanted to do something which had a whole load of artists but was more of a celebration of a type of music and California music is in our blood as a band."
'Cool band'
By the end of the show there will be 32 musicians on stage, including avant-folk powerhouse Lau, Nashville roots-rocker Corey Chisel, Canadian alt-country star Lindi Ortega and Scottish chanteuse Siobhan Wilson, who is singing a Joni Mitchell song which Hart says "will blow everyone away".
Another big name on the bill is Californian quartet Dawes, whom Hart says he first saw backing former lead guitarist with The Band, Robbie Robertson.
He says: "I was watching Robbie Robertson on Jools Holland and trying to work out why he had such a cool young-looking band, so I checked them out and loved the record."
Hart says Dawes are very much in the California tradition, typified by acts such as Jackson Browne.
And the Glasgow musician says Californian influences on his early work led to some confused reactions.
"When I did my first album I was obsessed with the first Jackson Browne album. When I brought that out in Scotland six years ago, everyone was asking 'what is this'?," Hart says.
"They could not understand where it had come from. But that was very much our ethos, those stripped-back drums and bass.
"It was very minimal because you let the song do the talking and the lyrics come through.
"That is something that is typical of all these Californian artists, that kind of romantic, literate style of song-writing that has real heart but also real truth about it."
'Mutual admiration'
Dawes frontman Taylor Goldsmith says: "It is cool to hear California music be talked about in that way.
"When you listen to these Neil Young records or Warren Zyvon or Joni or whoever, there is something that permeates through all of it.
"The crazy thing was, even for us growing up in California, we weren't really aware of that.
"People were saying 'it is a California record' and we did not even know what that meant."
Goldsmith says the Laurel Canyon scene has not existed for a long time but there are now lots of LA performers such as Jonathan Wilson, Edward Sharpe, Foster The People and Local Natives who have made the city interesting again.
"Even though the music of Local Natives is night and day with the music we make there is still that mutual admiration and support," he says.
Both Goldsmith and Hart are keen to note that the Roaming Roots Revue is not some kind of Stars in Their Eyes cover version concert.
Hart says: "We are trying to draw the through-line from music of the past but you celebrate the music of the present and the future as well."
Goldsmith says: "It was not about putting on our Jackson Browne outfits. It is about being proud that this music means so much to us and wanting to let people know that.
"At the same time, we are playing our own songs as well and we are very grateful for that.
"If it was a full set of covers it would still be awesome but Roddy's point would be missed. It would not be about music of the future."