Glasgow 2014: Has Games' legacy a sporting chance?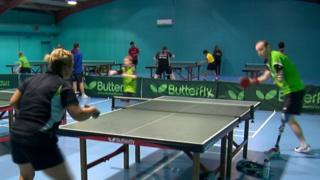 Can Glasgow's Commonwealth Games deliver a legacy when others have not?
It might seem like an unlikely thing but table tennis is an exhausting sport.
In Drumchapel in Glasgow, at the local table tennis club, children from eight years old are firing ping pong balls across the table, backhands, forehands slices, smashes. The music is loud.
Head coach, Terry McLernon, who founded the club 25 years ago says it helps them concentrate.
McLernon set up the club as a way to get kids off the street. It has grown into one of the biggest and most successful in Britain.
The table tennis club recently became part of Drumchapel's community sports hub. An initiative funded by Sportscotland as part of the Commonwealth Games legacy programme. The hub allows local sports to share facilities, expertise and resources.
In Drumchapel they now do football, tennis, gymnastics, netball and boxing as well as table tennis.
McLernon says: "We've lots of brand new kids all in primary school that came through our development club. It just inspires me because they love it so much."
There are to be 150 sports hubs put in place right across Scotland by 2016.
Sportscotland is spending £1.5m a year setting them up. A further £10m has been released for local clubs to apply to make improvements to their facilities and additional funding is also been made available to help local clubs support elite athletes.
But the academic research suggests that simply hosting a major event will not be the catalyst organisers claim it to be when it comes to getting us all more active.
Prof Leigh Robinson is the chair of sports management at Stirling University's department of sports.
She says: "The whole rational of a participation legacy occurring because of mega events is unsupported and when you think about it logically why would you watch and then go out an participate?
"Glasgow is probably in a better position than most mega-events because, as part of their legacy promises, they are focusing on strengthening the sports system.
"If Glasgow can get that right then there will be a participation legacy of the Commonwealth Games. I've yet to see any country get that right."
Commonwealth and Sports Minister Shona Robison recognises that out of all the long term benefits that the Games has the potential to bring, this will be the most difficult to achieve.
She says: "It's a challenge but we've been working on it right from the start and we've been doing it through grass roots.
"Sportscotland has been investing in clubs to expand them and grow capacity so young people who want to do sport can do so.
"We've been tackling PE in schools, the Active Schools network is doing really well. All of that is making it easier for people to be more active, more often."
There are still lots of grass roots clubs that say they desperately need investment.
Edinburgh Athletic Club is one of the oldest and biggest in Scotland, it can boast Allan Wells as a past champion with several of its current athletes already named for Team Scotland this year.
The club's treasurer Ian Campbell says they have not seen any funding, despite a surge in demand since the Olympics in London.
"We have an annual budget of around £50,000, about £30,000 of that is spent getting people to competitions, we are in a sense victims of our own success but it is a real frustration because it negates us doing other things like supporting coaches," he says.
"So it's a catch 22 we've got all these people interested in the sport but don't have enough coaches on the ground to bring them in and hence we have waiting lists."
Where there has been investment there is a feeling that things are changing for the better.
Buzz word
Perth High School facilitates another community sports hub. There you can really see the local community getting the most out of their local sporting facilities.
The local archery club shares the resources, alongside basketball, badminton, football and netball to name a few of the sports on offer.
Some of the school's older pupils are also able to take sports leadership qualifications and give something back.
Catriona Beattie is 17 and coaches kickboxing, ballet and hockey.
"I absolutely love it, it's just so rewarding seeing people progress and you've been part of their progress and they look up to you, they see you as a respectable athlete and that's what I love," she says.
Legacy is always the buzz word of any major event and, in a debate at Holyrood, MSPs will also be asking questions about the commitment to generate business, tourism, to improve the east end of Glasgow.
When it comes to participation clearly an infrastructure is being put in place, whether the Games will inspire us to make that move off the sofa is another matter.