Glasgow 2014: More arts projects announced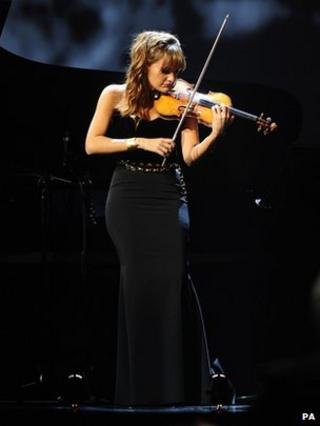 Hundreds of children are to take part in two family classical music concerts in Glasgow and Dundee as part of the Glasgow 2014 Cultural Programme.
A total of 42 new projects have been announced, including a dance festival and a classical music marathon.
A new woodland park is also being created in the east end of Glasgow which will include work created through artist residencies.
More than 800 arts events will coincide with the Commonwealth Games.
They will involve thousands of artists, performers and participants across hundreds of Scottish locations and venues.
Projects will cover theatre, dance, music, visual arts, comedy and digital media.
More than 800 children will be involved in May's family concerts which are being brought together by the National Youth Choir of Scotland and Children's Classic Concerts, with the Royal Scottish National Orchestra (RSNO) and RSNO junior.
For the Classical Marathon Day, which will be held in Glasgow in July, violinist Nicola Benedetti will lead the best of Scotland's orchestras, classical musicians and ensembles.
The event will climax with the RSNO and BBC Scottish Symphony Orchestra joining forces to create a mega-orchestra. During the day Nicola Benedetti will perform three concerts with different orchestras.
Outside Glasgow, internationally-renowned choreographers and community dance artists will join young people from Aberdeenshire to create a new dance performance to Vivaldi's The Four Seasons.
There will also be a major season of South African works at the Edinburgh International Festival, and two pieces of work from Australia, which will tour venues across Scotland.
Big screens
There are two strands to the Glasgow 2014 Cultural Programme: A Scotland-wide programme called Culture 2014; and a celebration in Glasgow running alongside the sporting action called Festival 2014.
Festival 2014, being held from 19 July to 3 August, will include a mix of entertainment and culture at various spaces and venues in Glasgow.
The highlight of Festival 2014 will be three Live Zones, one at Glasgow Green, one in the Merchant City and a third at Kelvingrove Bandstand.
The public will be able to watch The Games on big screens, participate in arts and sports, and watch music, dance, comedy and film.
Glasgow 2014 chief executive David Grevemberg said: "Culture 2014 will not only showcase the best of Scottish culture alongside creative work from across the Commonwealth - it is a fundamental part of the Games experience.
"Spectators, visitors, the whole of Scotland have the opportunity to get involved in and enjoy the Games.
"The unique collaboration between Glasgow 2014, Creative Scotland, Glasgow Life as well as hundreds of groups, artists and communities across Scotland and beyond is something very special indeed."
'Exhilarating journey'
He added: "From dancers and discus-throwers to gymnasts and jugglers and wrestlers and writers this celebration will be a merging of sport and culture that will dazzle, delight and live long in people's memories."
Janet Archer, chief executive of Creative Scotland, said: "This incredible programme will weave together rich stories of people and places from Scotland and the Commonwealth.
"It will present spectacular performances and intimate portraits, put communities at the heart of the work, and create new communities through an unprecedented range of ways to take part."
She added: "This programme will give opportunities for people across the country to explore and enjoy great work by world leading and new artists from Scotland and the Commonwealth.
"The Glasgow 2014 Cultural Programme is going to be an exhilarating journey."