Report praises Scotland's child poverty reduction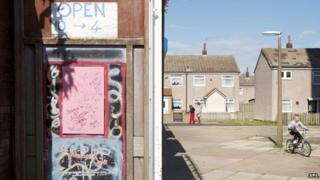 Child poverty fell in Scotland at about twice the rate of England in 10 years, the Joseph Rowntree Foundation said.
It said Scotland's child poverty fell by 9.9% in the decade to 2012, compared with 5.7% in England.
Much of the improvement north and south of the border was among lone-parent families, which has been ascribed to higher employment and tax credits.
But its report also said Scotland's progress on tackling poverty in working families set it apart from England.
Reduced poverty among children in working families in Scotland accounts for almost four percentage points of the overall fall. In England this change has been minimal, according to the report.
'Better record'
It said: "We can speculate that this is because parents in Scotland are more able to access suitable job opportunities with high enough pay and/or use services such as childcare and transport."
The charity's report said more than half (54%) of children in workless families in Scotland were in poverty, compared with 10% of those in working families.
But it added changes to benefits were likely to have increased poverty for children in workless families further.
The paper urged both Scottish and UK governments to do more to help people who do not have jobs.
Strategies to tackle poverty in the short and long-term must be central to the independence debate, it said.
Dr Peter Kenway, director of the New Policy Institute and co-author of the report, said: "Scotland's better record on child poverty over the last 10 years is down to reductions in in-work poverty among couples with children.
"But how much credit policy makers, in either Edinburgh or in London, can take for this is unclear.
"Scotland's challenge is to find a route out of poverty for the many families that are out of work.
"This means people with ill-health and disabilities, caring duties and those with a lack of skills. People in such households must be offered a sustainable route out of poverty as well as continuing to reduce in-work poverty."
'Political will'
Jim McCormick, Scotland adviser to the Joseph Rowntree Foundation, said: "Progress on reducing child poverty has stalled after a steady reduction and the rate is set to rise again.
"The challenge for each side of the referendum campaign is to demonstrate how a country where no child grows up and remains in poverty can be achieved."
A spokeswoman for the Scottish government said: "We are doing all we can to tackle child poverty in Scotland, but we need the economic and other policy tools to do much more".
John Dickie, head of the Child Poverty Action Group in Scotland, said very real progress had been made in a decade but that independent forecasts now suggested "an explosion in child poverty".
"This JRF briefing highlights the need to focus support on families who are unable to work as well as those in work," he said.