Scottish government announces funding for 3,500 new college places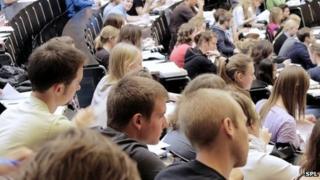 An extra 3,500 places are being created at Scotland's colleges, the Scottish government has announced.
Deputy First Minister Nicola Sturgeon has outlined £13m in funding for the new places.
The money will be available via the Scottish Funding Council and the European Social Fund.
The announcement follows figures released last month showing college student numbers had fallen by 140,000 in the past five years.
Ms Sturgeon, visiting West College Scotland in Paisley to announce the new provision, said: "This funding will provide high-quality training in areas where skills are in particular demand, and will help many young people into work.
"It will also provide retraining to workers so that they can develop their existing skills.
"To secure sustained economic growth, Scotland needs to have a skilled and adaptable workforce. It is this type of joint investment that will help us meet this ambition."
The new college places are being created on courses for key sectors of the economy where skilled workers are in demand, such as the energy industry, the food and drink sector, health and digital media.
Responding to the funding announcement, Larry Flanagan, the head of the Educational Institute of Scotland, the country's largest union for teachers and lecturers, said: "The planned injection of an additional £13m in funding into the Further Education sector will open up new opportunities for learners across Scotland.
"As the country works its way towards a better economic future, the role of Further Education in ensuring that Scotland has a well-qualified and skilled workforce is ever more important."
'Worrying drop'
John Henderson, Chief Executive of Colleges Scotland said: "Today's announcement is very good news for colleges and learners.
"It will provide more opportunities for access to skills. And it underlines the Scottish Government's recognition of the vital role of colleges in contributing to the strengthening of the Scottish economy."
Gordon Maloney, president of the National Union of Students Scotland, also welcomed the news.
"Since the draft budget was announced last year, NUS Scotland has been consistently calling for extra investment in college places, and it's great to see the Scottish government follow through on that," he said.
"While we've seen college places protected in recent times, we need to make sure that we address the worrying drop in headcount for women, mature and disabled students.
"We hope that this won't just be a one-off, however, and would encourage the government to continue to boost places and opportunities where they can, to ensure that we genuinely have opportunities for all."
Figures released last month showed there were a total of 238,805 students at colleges in 2012-13, down from 379,233 in 2007-08.
The fall came after colleges were told to prioritise courses that would improve people's chances of finding work, and reduce the number of people on short courses and leisure classes.
The college sector has seen upheaval in recent years, with a merger programme reducing the number from 37 to 21.
The mergers faced criticism from opposition parties, but ministers said savings generated through the mergers would protect full-time Further Education places.