Scottish universities have 'record cash reserves', EIS union research suggests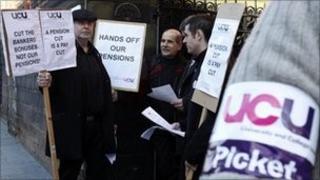 Scottish universities have built up record cash reserves, according to research for a teaching union.
The Educational Institute of Scotland (EIS) claimed the universities had an operating surplus of more than £90m between them last year.
Unions are currently in dispute with universities over pay and will hold a third UK-wide strike on Thursday.
A Universities Scotland spokesman said reserves were "not cash" and could not "be easily used to fund pay".
The EIS claimed that Scotland's universities had a total income of £3bn between them in 2012-13.
This included money from the Scottish Funding Council, research grants, cash from businesses and the tuition fees paid by students from other parts of the UK and countries outside the EU.
The union calculated universities spent £90m less than they brought in.
The EIS also said 57.9% of the income was public money.
EIS general secretary Larry Flanagan said: "This report is a substantial piece of work that lays bare the healthy financial position of higher education institutions in Scotland.
"At a time when lecturers are fighting for a fair pay rise, after years of pay restraint and declining real-term salaries, it is quite shocking to see evidence of the very healthy financial position of our universities - mostly built on public money.
"As pay at Higher Education senior management level continues to soar, including some extremely generous packages paid to university principals, it is hard to see any justification for a continuing squeeze on lecturers' pay."
Pay rises
Lecturers and some support staff at universities are due to stage a third 24-hour strike on Thursday.
As well as the EIS, members of Unite, Unison and the University and College Union (UCU) will also take part.
The long-running dispute started when staff refused to accept a 1% pay offer for this academic year. The UCU said pay had fallen in real-terms by 13% since 2009.
The UCU argued that several university principals have had substantial pay rises in recent years.
It said: "The principal of Heriot-Watt University, Professor Steve Chapman, received a 24.3% pay increase last year, while at the University of Strathclyde, Professor Sir Jim McDonald, received a 17.9% rise. At Queen Margaret University, Professor Petra Wend, enjoyed an 8.2% increase and at the University of Stirling, Professor Gerry McCormac got 6.2%."
There was controversy at the weekend when it emerged Strathclyde University had bought a £1m property in Glasgow's west end. As well as providing accommodation for the principal, it will be used for other events. The university believes this was a good property investment.
'Misleading picture'
Pay increases are negotiated at a UK-wide level through the University and Colleges Employers' Association.
Some lecturers have said they accept that some universities are in a better financial situation than others but do not want to move away from nationally agreed pay rises.
A Universities Scotland spokesperson said: "Reserves are the value of universities' assets; it is not cash and it cannot be easily used to fund pay.
"The percentage of total spend on staff pay may have decreased, but the EIS neglects to mention that in the last five years alone the staff wage bill in Scotland has increased by over £138m with the knock-on implications this has for pensions."
The spokesperson added: "It is, in our view, highly counterproductive for the unions to wilfully paint a misleading picture of universities' financial condition as part of their tactics for negotiating pay.
"The unions understand that reserves are not ready cash; they know reserves and surpluses are important for the sustainability of the institutions and without surpluses institutions cannot borrow to invest in their estates - something universities need to do now as they have seen funding SFC capital funding plummet by nearly 80% in the last five years."