Scotland's World War One site secrets revealed in audit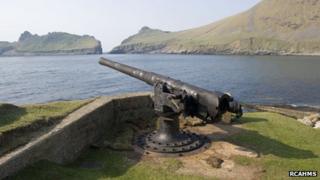 Previously unknown details about sites and structures established for the defence of Scotland in World War One have been revealed after an audit.
It was commissioned by Historic Scotland and the Royal Commission on the Ancient and Historical Monuments of Scotland (RCAHMS).
There were anti-invasion defences in 39 places, with the majority located around Edinburgh and East Lothian.
All of the records are available to view online.
The audit has allowed the records of 900 buildings and places to be created or updated.
Among the records are details of 239 hospitals - including village halls - 64 air stations, 39 prisoner of war camps, 20 firing ranges, 15 barrack and military accommodation sites, and 11 naval dockyards.
'Invaluable' audit
The audit's author, Dr Gordon Barclay, said: "The audit has more than tripled the number of places known to be associated with Scotland's contribution, both military and civilian."
Culture Secretary Fiona Hyslop said: "Our World War One built heritage is a vital part of our historic environment and is key to educating us about Scotland's role in the conflict.
"This audit will prove invaluable to our understanding of how every community played its part."
Allan Kilpatrick of RCAHMS said: "Scotland was on the front line during WW1. St Kilda was bombarded by a German U-boat and Edinburgh was bombed by a Zeppelin.
"The naval bases on the Forth, Cromarty and Scapa Flow were essential to protect Britain's navy and her shipping.
"Large parts of the landscape were transformed by structures designed to repel any invasion or attack, and it is remarkable just how many WWI remains can be still be seen today. Having these records online and in one place, provides a perfect starting point for further study."