Warning to keep grey squirrel traps shut to help save reds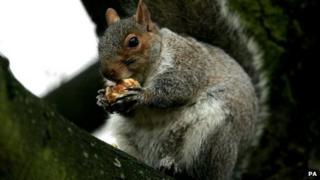 Releasing a grey squirrel from a trap is a crime and may increase the chances of the red squirrel population dying out, according to conservationists.
The Scottish Wildlife Trust has warned people not to interfere with traps.
It said a programme of catching and culling non-native greys was necessary to give reds a "fighting chance".
The environmental group said it was particularly concerned about greys being released in different areas from where they were trapped.
They said such a move could potentially introduce the deadly squirrel pox virus to a colony of red squirrels, with devastating consequences.
There have been a number of outbreaks of squirrel pox in the south of Scotland n recent years, leading to a widespread grey squirrel control programme.
Scottish Environment Minister Paul Wheelhouse said: "Wildlife crimes are not just about the obvious crimes of persecution of certain species such as birds of prey.
"We have these laws in place to protect and conserve species such as the red squirrel, which are very dear to people's hearts and a symbol of Scotland.
"Unfortunately grey squirrels have spread so successfully that they have damaged the chances for our native reds.
"So that we don't lose the species, we have had to introduce methods to control greys."
Gradual decline
Trapping is co-ordinated by the Saving Scotland's Red Squirrels (SSRS) project which is targeting grey squirrels across Aberdeenshire, the Borders, Dumfries and Galloway and the Central Lowlands of Scotland.
Traps are in place in public woodlands and on many private estates.
The Wildlife and Countryside Act makes it illegal to release, or allow to escape, any captive grey squirrel. Offenders could incur a fine or prison sentence.
Chief executive for the Scottish Wildlife Trust, Simon Milne, said: "The traps aim to catch the non-native invasive grey squirrel, which was introduced to the UK over a hundred years ago.
"The arrival of greys in an area occupied by reds causes reduced red squirrel breeding and survival rates, leading to a gradual decline in their numbers.
"We don't want anyone who happens to come across a trap in our woods to inadvertently commit a wildlife crime by releasing a grey."