The enduring appeal of the model railway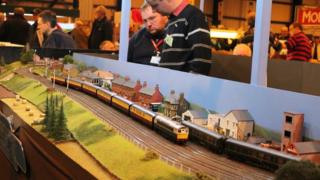 Trains may be a traditional toy for a little boy but there are plenty of grown-ups who retain their passion for model railways.
Archie Brown's model railway layout took two years to plan and six months to construct. The word enthusiast does not really do justice to level of commitment he devotes to his hobby.
He is showing off his layout at the Model Rail Scotland show in Glasgow's SECC, which runs until Sunday, as the representative of the Glasgow and West of Scotland Model Railway Club.
Archie explains that he has tried to re-create a specific time rather than a place.
"So the buildings are taken from a number of different sources but they are all modelled on actual buildings," he says.
He glories in the level of detail in his model.
"We have the garage with the man running out to fill your car while you just sit in it as used to happen in the 50s," he says.
"We also have a broken-down vehicle and what we have is a little smoke unit under the layout base board and the car sits on top of that.
"So when someone notices the car with the hood up, we press a button and smoke comes out of the engine."
Archie has been a modeller for 40 years and says it has allowed him to learn many different skills.
"For instance everything is worked by electricity so you learn a lot about electrics," he says.
"You learn woodwork because you have to construct the boards to lay the track on and then you learn about scenery, how to construct hills and valleys using, these days, plaster bandage over a polystyrene foam base, just to give a flowing landscape that looks realistic and natural."
It can be an all-consuming hobby. People often concentrate on a particular era, type of train or gauge.
For some it can even mean changes in your house to accommodate it all.
Colin Rae, publicity manager for Model Rail Scotland, says: "We have got a couple of layouts at home.
"One is a static layout in the loft. We actually had the loft specifically converted to hold the model railway because it was a more modern house. We had to take half the roof off to get the new, enhanced trusses in place to allow us to build the layout up there.
"We also have a small travelling layout which is available to go to shows."
Mr Rea says he often spends about 40 hours a week on his hobby, as much as spends on his full-time job.
It is difficult to measure just how widespread and popular this hobby is.
Peco is, among other things, a model railway manufacturer and publisher of magazines and books on the hobby.
Sales manager Steve Haynes says he thinks it is as popular as ever.
He says: "It started pre-war effectively but became very popular in the 1950s and 60s. It has been going on ever since. It's been going from strength to strength.
"I think this day and age, when children in particular have so many other distractions in life, it is always very satisfying to see the hobby very much alive."
For Colin Rae the hobby is an enduring interest because it keeps the "little kid" inside him alive.
He says: "I think some of the modern advances keep the interest alive. For example, I can run my own personal layout using an iphone. Things like that will get younger people involved in the hobby these days. It is always evolving."