Funding of £100,000 to boost defibrillator numbers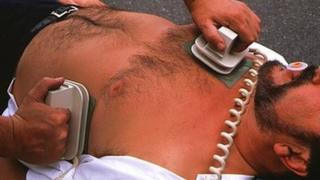 Funding of £100,000 has been announced to increase the number of public access defibrillators across Scotland.
The Scottish Ambulance Service will buy and deploy the machines, which can help improve the chances of people surviving a heart attack.
Prior to this new funding, which is being provided by the Scottish government, the machines had to be purchased through charity, community or business means.
Each defibrillator costs about £3,000.
The Scottish Ambulance Service has said it will provide advice and guidance to any council, community, organisation or business interested in developing a publicly accessible defibrillator.
The new initiative is part of a wider emergency life support programme run by the Scottish Ambulance Service in conjunction with private partners, including British Heart Foundation Scotland.
'Improve chances'
Announcing the funding, Health Secretary Alex Neil visited Aberdeen Health Village where he met ambulance staff and trained first responders who demonstrated the difference a defibrillator can make.
He said: "Early cardio pulmonary resuscitation (CPR) and defibrillation, quickly followed up by advanced life-support from an ambulance team, can greatly improve chances of survival from a cardiac arrest.
"I'm delighted to be able to announce the funding for these defibrillators and by working with the Scottish Ambulance Service, we hope that people and communities across Scotland will reap the benefits."
The investment was also welcomed by Scottish golfer Bernard Gallagher, who suffered a heart attack last year.
Mr Gallacher, who set up the Bernard Gallacher Defibrillator Campaign, said: "This is fantastic news. Personally I'd like defibrillators to be as ubiquitous as fire extinguishers because they are lifesavers, pure and simple.
"Had there not been one available the consequences would have been tragic for my family, and I am truly delighted that the Scottish government has provided funding for these vital pieces of equipment that will save hundreds of lives."
He added: "Everyone deserves the same chance I had last August."
In February 2012, Clydebank-based ambulance technician Brian Martin was playing five-aside football with colleagues, when he collapsed in cardiac arrest.
Working as a team, Brian's colleagues started CPR, while they retrieved a "shock box" located in the leisure complex. This was used to deliver one shock, which returned Brian's heart to normal rhythm.
After successful surgery in hospital, Brian then made a full recovery and returned to his role within the Scottish Ambulance Service.
He said: "It's because there was a defibrillator available which my colleagues used that I am here to tell the tale.
"If I hadn't survived I would have missed my daughter's first day at school."