Police helicopter contract to be extended in options study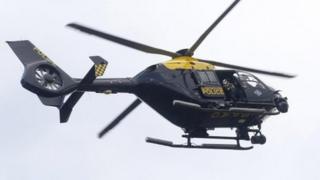 Police Scotland is to carry out a study into the future of air support, including adding fixed wing aircraft to its current air service.
It is to extend the £2.1m annual contract with Bond Air Services which provides the police helicopter, to allow options to be reviewed.
Fixed-wing aircraft are being considered for use in remote areas.
The move is not connected to the police helicopter crash in November in which 10 people died.
Members of the Scottish Police Authority (SPA) voted at their meeting in Glenrothes to seek authorisation from the Scottish government to extend Bond's contract, which expires in September 2014.
In a report to the authority, Police Scotland said the extension would allow them to investigate future options for air support services.
It said the purchase of a new helicopter could take up to two years, and estimated it would cost £6.3m.
Recovery
A new aircraft would have an estimated lifespan of 15-25 years, depending on how it was upgraded and maintained.
Chief Constable Sir Stephen House said, although the current helicopter contract had been signed by the former Strathclyde force, the aircraft had been deployed across Scotland since the formation of the new single force last April.
He told the meeting: "It has been involved in the recovery of over 100 missing persons since the first of April.
"I wouldn't want anyone around the table having the misapprehension that it's only doing operations in the west and occasionally goes elsewhere.
"That's not the case. It does provide a service across the whole country."
The report also suggested the option of introducing fixed-wing aircraft in addition to the existing helicopter.
It said: "Fixed-wing aircraft have lower flying charges, and a longer flight range which would appear to be suited for policing purposes in more remote areas.
"However, there are more restrictions in the take-off and landing processes."
Buying a fixed-wing aircraft would cost around £2m, and its lifespan would be approximately 30 years, the report added.
The Scottish Ambulance Service has operated a mix of helicopters and fixed-wing aircraft for some years.
Since the 2013 crash of the police helicopter on to the Clutha Vaults pub in Glasgow, Bond has provided a replacement aircraft.
The pilot and two police officers in the helicopter died along with seven customers in the pub.
The Air Accidents Investigation Branch (AAIB) report into the fatal crash is expected later in 2014.
An interim report on 14 February said the aircraft suffered a double engine failure, but its report did not pinpoint the cause.
Investigators said they were still trying to establish why both engines "flamed out" when there was 76kg of fuel remaining.
Examination of the engines showed "no evidence of foreign object damage or intake or exhaust blockage in either engine".