Willy Wonka collector's golden ticket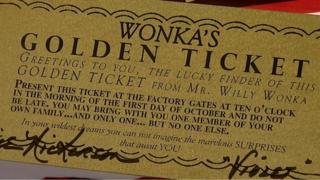 What has been described as the world's largest collection of Willy Wonka and the Chocolate Factory film memorabilia is to go on display this weekend in Grangemouth.
The 1971 film version of children's author Roald Dahl's dark tale has become a cult classic over the intervening decades, but at the time of its release it was considered a bit of a flop.
The film, which starred Gene Wilder as the mysterious factory owner Willy Wonka, was shot in Munich, mainly because it offered a cheap location.
Collector Gregor Gee says most of the sets and props were thrown away as the production team rushed to vacate the studio after filming wrapped up.
"They had to almost immediately clear the studios because they were filming Cabaret with Liza Minnelli there so everything got thrown in the skip," says Gregor.
"I don't think anyone realised back then that props and costumes would be so valuable and so important because the movie was actually a complete flop in 1971."
Luckily for the film's devoted fans, not everything was destroyed.
And Gregor, 24, from Bo'ness, near Falkirk, snapped up a large collection including a replica of Gene Wilder's bright coat and top hat.
He also managed to get his hands items such as golden tickets, Wonka bars, lickable wallpaper - and what is thought to be the only surviving Scrumdidilyumptious bar.
He is now showing them off - not in a museum - but at a Willy Wonka night in Grangemouth Town Hall.
Just like in the movie, entrance to Gregor's Wonka party is via a golden ticket.
But, unlike in the movie, fans can buy them.
Stars from the original film, such as actress Diana Sowle, who played Charlie's mother Mrs Bucket, will also attend the "Willy Wonka" experience, which Gregor will be taking to Birmingham and London later.
Gregor says he has always loved the movie, even spending his 21st birthday at the Munich gas works that doubles as the chocolate factory in the film.
But it was a contact from TV show Hollywood Treasure which allowed him to get hold of the Wonka collection.
Gregor says: "The guy Joe Maddelena, who hosts the show, spent 20 years gathering it for the Dreier family, who are real estate brokers in America.
"They basically decided to dispose of everything and I just thought it would be a complete shame to see it split up all over the world.
"So I just tried to get as much of it as I possibly could."
He is not saying how much he paid for the items, which he stores in a warehouse along with his other collections, which include a Chitty Chitty Bang Bang car and Christopher Lloyd's shirt from Back to the Future.
However, he says the collection is worth a lot of money, with just one tiny plastic everlasting gobstopper selling for $50,000.
Gregor says: "The stand-out piece for me has to be the Scrumdidilyumptious bar because there were thousands and thousands made and there is only one that has survived.
"I am very proud to have it."