ScotRail announces new direct Edinburgh-Ayr service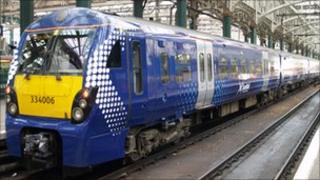 ScotRail has announced plans to launch a new direct "coast-to-coast" train service between Ayr and Edinburgh.
The move involves extending current services that operate between Edinburgh and Glasgow Central via Carstairs.
The service will be part of ScotRail's new summer timetable, which will see additional services to and from Ayr.
From 19 May, four services every hour will connect Glasgow Central to Ayr from Monday to Friday - up from the current three.
The fourth train currently stops at Irvine but will now continue on to Ayr.
Steve Montgomery, managing director of ScotRail, said: "This new Edinburgh-Ayr service is likely to appeal to leisure passengers, particularly during the summer months, where the train journey is part and parcel of the day out."
Transport Minister Keith Brown said the new coast-to-coast service would result in "great benefits" for the tourism industry both in the east and the west of the country.
He added: "ScotRail passenger numbers, in line with Scottish government investment in our railways, have now reached record highs and these additional services will offer even more people extra opportunities to enjoy travelling by train."