New mobile app to help shipbuilders' navigation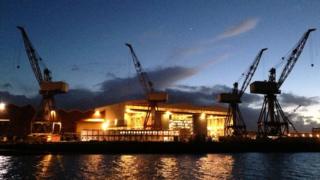 Workers building the UK's largest-ever warships are using a mobile application to stop them getting lost inside the huge vessels.
The app lets workers scan QR codes with their phones which will then display navigation routes available to them.
The innovation came into being because conventional satellite navigation cannot penetrate the ships' structure.
Experts say the app could also be used inside large buildings or underground transport networks.
HMS Queen Elizabeth and its under-construction sister ship, HMS Prince of Wales, have more than 3,000 compartments spread across 12 decks, where even routine journeys can take up to 20 minutes to complete.
'Plat Nav'
The Platform Navigation application works by allowing shipyard construction workers to use an encrypted application to scan one of 3,600 QR codes located at compartment entrances, before typing in their destination on the carrier. The application then displays the best route.
Dubbed "Plat Nav" by some, the app is primarily designed for new workers and infrequent visitors to the ship, but it can also help experienced employees when a regular route is blocked or when they need to find a less frequently visited area.
Mick Ord, managing director at BAE Systems Naval Ships, said: "These are the largest and most powerful warships ever constructed for the Royal Navy so we need to keep finding smarter, safer and more efficient ways of working.
"Platform Navigation is a truly innovative device as it provides greater visibility within complex environments so that employees can concentrate on the task in hand, which for us means delivering the nation's flagships."
Creators of the application say it could also be developed to be help construction workers on other large ships or construction projects, as well as potentially being used in large buildings and underground transport networks.