RSPB Scotland calls for urgent action on climate change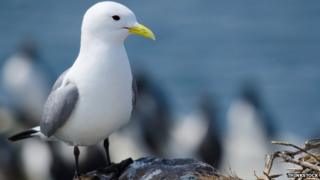 RSPB Scotland has called for a redoubling of efforts to tackle climate change after a UN report suggested it was having a major impact on some iconic species and habitats.
The conservation charity said coastal habitats and wildlife were already suffering from rising sea levels, extreme weather and warming oceans.
It warned birds such as kittiwakes and dotterels were particularly vulnerable.
The RSPB urged urgent government action to cut greenhouse gas emissions.
The call followed an update by the Intergovernmental Panel on Climate Change (IPCC) on the scale of the threat globally.
RSPB Scotland said its own research indicated that climate change was behind a steep decline in the number of kittiwakes breeding in Scotland.
Seabird counts on some RSPB sites around Orkney pointed to an 87% reduction in kittiwake numbers since 2000.
The research suggested warmer sea temperatures were affecting the abundance and quality of their main source of food - sand eels - raising fears the species could become extinct in some areas unless urgent action was taken.
Climate change was also said to be having an impact further inland on species such as the dotterel, a bird that breeds only on the highest mountain tops of Scotland.
Almost two-thirds of the UK population are found in the Cairngorms but recent figures showed the total number of breeding males fell from 630 in 1999 to 423 in 2011, according to the charity.
It is feared that changes in temperature could force the birds further uphill, shrinking their habitats and leaving them with less food to eat.
Conservationists have similar fears for the snow bunting, a songbird which depends directly on snow as a habitat and could experience a reduction in its range in Scotland.
The IPCC report singled out Scotland's machair grasslands as one of the habitats most at risk from climate change, RSPB Scotland said.
The machair, which supports species such as the corn crake, ringed plover and great yellow bumblebee, is unique to the British Isles and 70% is found in western Scotland - but many parts are suffering from erosion and could be further damaged by rising sea levels and flooding, it is claimed.
'Wake-up call'
Jim Densham, senior climate policy officer at RSPB Scotland, said: "The IPCC report powerfully backs up what we know about the changes that are already affecting Scotland's natural heritage.
"Some of our most special wildlife and habitats are suffering now from the impacts of a changing climate.
"The report is a wake-up call for all governments, including our own, to redouble efforts to halt climate change by cutting greenhouse gas emissions in all sectors of our economy and society.
He added: "The report also highlights that we must take decisive action to adapt to a changing climate."
"Our wildlife needs our help if it is to adapt and survive the changes - changes which we have caused. This will need everyone - from government to each citizen - to take the threat seriously and to act."
The Scottish government welcomed the IPCC report and said the Scottish Parliament had already passed world leading legislation to tackle global warming.
Environment Minister Paul Wheelhouse said he remained confident Scotland would meet its target of reducing greenhouse emissions by 42% by 2020.
He added: "Clearly, though, climate change is not something Scotland can tackle alone.
"We need the rest of the UK, our European neighbours, and indeed all countries to do their bit.
"We want to see an ambitious global deal on climate change agreed in 2015 and for the EU to raise its pre-2020 emissions target."