The Beautiful Cosmos of Ivor Cutler
Ivor Cutler's off-the-wall humour, surreal songs and poems inspired everyone from Billy Connolly to the Beatles. Now he is the inspiration for a new show from the National Theatre of Scotland.
Eccentric is the word that is often used to describe Ivor Cutler but it is "a bit cheap and obvious", says James Fortune, the musical director of the Beautiful Cosmos of Ivor Cutler.
Fortune says that if Cutler had been born in Eastern Europe he would have been taken a bit more seriously as an artist, like Nikolai Gogol or one of the "absurd" Russians.
"But over here, because of the silly hats and his life manifesto, everyone thought he was bonkers," Fortune says.
"I think he has got a lot of depth, a lot of darkness, especially when he talks about his childhood."
Born in Govan in 1923, in to a Jewish family which was of Eastern European descent, Cutler always maintained his miserable childhood made him more creative.
Cutler, who died in 2006 at the age of 83, had a difficult relationship with his mother and with Scotland, where he always thought he was undervalued.
He is reported to have later said that 95% of people thought his work was nonsense.
"In Scotland it is 100%," he said.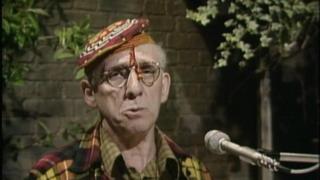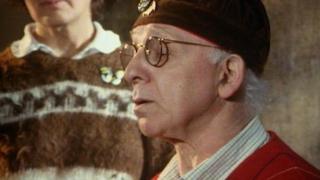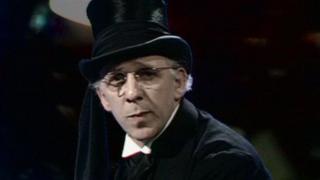 After serving as a navigator in the RAF during the war, where his "dreaminess" was not an asset, Cutler became a teacher in schools in Glasgow and Paisley.
But the brutal world of post-war Scottish education was not for him and he "escaped" to Sussex in the early 1950s where he taught at the "alternative" Summerhill school.
While remaining a teacher, he began writing, performing and recording his surreal songs, usually accompanying himself on the harmonium.
Many of his songs, such as Gruts for Tea, were inspired by his miserable depression-era Glasgow childhood.
Over a career spanning five decades he influenced everyone from the Beatles to Billy Connolly and every new generation afterwards.
Connolly once said the world needed Ivor Cutler "in order to think differently".
The Glasgow comedian said that, like the West of Scotland rain which seeps into your very being, nobody encapsulated the word "dreich" like Cutler.
In the mid-1960s Paul McCartney of the Beatles saw Cutler on the TV show Late Night Line-Up and was impressed by his wit and his ability to "hang on to child-like wonder".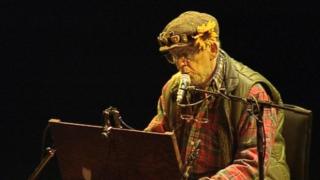 The pair became friends, with McCartney describing Cutler as a "cult hero".
When the Fab Four were making their 1967 film Magical Mystery Tour, Cutler was cast as Buster Bloodvessel, the tour guide who wanted people to enjoy themselves "within the limits of British decency".
In the 1970s it was the eclectic tastes of radio DJ John Peel that brought Cutler to the next generation.
Sandy Grierson of the theatre company Vanishing Point, who plays Cutler in the new show, says: "The thing with John Peel is that you would get such a variety of music and you would hear so many different things and Cutler would just slip in there.
"But he would immediately jump out at most people."
Andy Kershaw, who went on to work with Peel and present his own radio shows, which also featured Cutler, first met Ivor as entertainments secretary for students at Leeds University in the early 1980s.
Kershaw says he did not know how much to pay Cutler for his performance so he asked if £500 would be alright.
"Lower," came the reply from Cutler.
The DJ says Cutler also insisted he did not want to stay in a hotel and instead slept at a student flat occupied by Kershaw and his friends.
Kershaw says: "He was extremely popular with people of all ages."
Cutler, who was at various times signed to Virgin records and Rough Trade, regularly supported rock musicians on stage.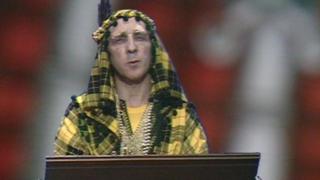 Kershaw says "It was also extraordinary to see Ivor in that rock music context.
"He was such an incongruous figure but rock music audiences loved him. There is something very infantile about a lot of his humour. An infantile instinct which I think stays with a lot of us throughout life."
Vanishing Point, the theatre company behind the show, and The National Theatre of Scotland hope it will bring Cutler to a new audience.
For musical director Jim Fortune the biggest challenge was which of the prolific writer's works to leave out of the show.
"It was really hard and there are some of my favourites that will not be heard," says Fortune.
"But the hits are there - I Believe in Bugs is there and I'm Going in A Field.
"It is a fest for Cutler fans and, if you don't know Cutler, it is an extraordinary introduction to his life and work."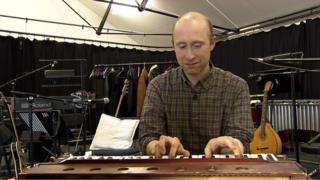 The show also contains a wee bit of a Cutler relic, a harmonium of his that was found at the Pavilion Theatre in Glasgow.
Sandy Grierson says: "The tale goes that, after a show, a technician heard Ivor Cutler talking to what he thought was a person and telling them that he had warned them before if they carried on like this he would leave them behind, and sure enough he would leave them behind this time.
"What it turned out to be was this harmonium," says Grierson.
No-one knows what the harmonium had done wrong.
The Beautiful Cosmos of Ivor Cutler starts at the Eden Court theatre in Inverness on Friday before travelling to Glasgow, Greenock, Stirling and Edinburgh over the next month.