Cupid's arrow changes target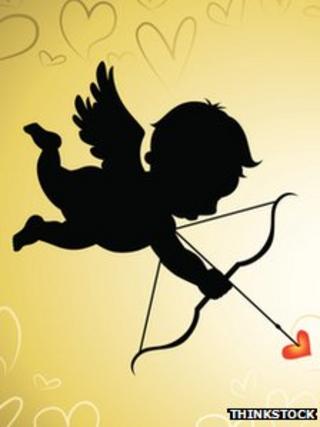 At Cupid, the online dating company, chief executive Phil Gripton says the past year has seen "an inflection point". That's some euphemism.
The Edinburgh-based firm was badly knocked off course by investigations for BBC programmes, finding what appeared to be fake profiles being set up, to draw customers into subscriptions.
Cupid appointed external auditors to test the claims. We were told this cleared the company of what was being alleged.
It insists, in its 2013 results, that the media claims were "unfounded" and took up a lot of management time.
So with that behind it, you might think the company would continue as it was, unruffled by those pesky journalists. On the contrary, that "inflection" has seen a very significant and turbulent change of direction, and a new top team brought in.
Adult content
In the second half of 2013, Cupid offloaded its "casual sites". By casual, it means adult content. That's another euphemism, by the way. And it turns out that that content was driving some impressive profit figures.
In 2012, the company made a pre-tax profit of £9.2m. The bit it's offloaded made a profit of more than £10m, while the part of the business it's retaining made a loss of more than £900,000.
So, unusually, Cupid's strategic move has been to get rid of the vastly more profitable bit of its business, selling to a former director. Without that profitable adult stuff and with some big costs from its turnaround plan, it's announced a pre-tax loss for 2013 of £7.36m.
Its reckoning was that the "casual" dating websites didn't make for much of a sustainable business model.
It said: "We had increasingly viewed the casual products as a complex portfolio of assets characterised by non-differentiated, circular revenue streams that were very short-term in nature."
The annual results statement doesn't explain why this might have been. I'll leave you to guess.
But it goes on: "These were becoming less attractive in the medium and long-term and the board concluded that this was an inappropriate direction for a listed company.
"We therefore took the decision to sell the casual assets and re-focus on the Company's mainstream core dating assets with a view to extending into more attractive complementary and strategic areas."
Or, as it went on to explain: "In re-assessing 2012 we have identified that both poor quality traffic and weak product quality were leading to worsening conversion and increasing churn as the year progressed, which were being masked by the top-line growth in the casual dating business."
Churn rate
The results put some illuminating figures to all this. In the first half of last year, it had more than 12 million registrations on its sites, only 2.2% of them converting to paid subscriptions.
By the end of the year, it was down to four million, the average one costing twice as much to recruit, but with a conversion rate to paid subscriptions of 3.1%, the average payment per month of £21 plus VAT.
In the first half of last year, the churn rate - the ratio of cancelled subscriptions to total subscribers - was an eye-watering 44%. By the second half of the year, it has been cut to 33%. That's its lowest point for two years, but subscriptions had fallen to 69,000.
'Fair and valuable'
That's a very small part of what, we're told, is a very big market. Globally, it's reckoned to have revenues of around US$3bn per year, and there are an estimated 1,500 online dating sites in the UK alone.
About 5.7 million people in Britain used the sites in 2012, according to Com Score Mediametrix, a firm used by industry analysts.
Cupid is telling the market that its line of work is becoming more socially acceptable, and is being embraced by the online brand giants Google and Facebook.
The challenge it's taking on is to use the data its collecting more cleverly - as with many other online businesses, but within the constraints of data protection law.
That issue, along with reputation management, is one reason why the industry in Britain has set up a trade body, the Online Dating Association, aimed at ensuring users get a "fair and valuable service from dating companies in the UK".
Its other challenge is to move on "past the 'matching' element of the process into facilitating the "date", by helping our customers access offers for services they may want to consume as part of their dating experience".
If successful in all this, don't expect Cupid to thank my BBC colleagues whose investigations appeared to precipitate all this change - less still to buy them a candle-lit dinner.