Young graffiti artists get gallery space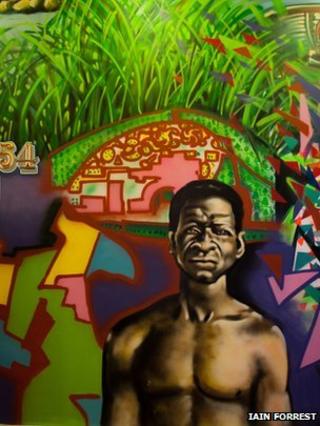 For artists, they are strangely shy about their work. But that is because as graffiti artists, Stephen Cuthbert, Cameron Fisher and Alexander McCallum may not always have been working with the approval of the owners of whatever wall or property they were working on.
Today, that's all changed.
With the full approval of South Ayrshire Council, they have been invited inside one of their galleries - Rozelle House in Ayr - and allowed to use the walls, floors and ceilings as a great canvas.
The results are impressive. A vibrant forest of twisted flora and fauna, mixed with Japanese Manga and other distinctive styles.
Frank Carty of Artisan Artworks led the project.
He offered the youngsters tips on spray painting indoors, layering and achieving 3D effects but he admits the biggest challenge has been changing the perception of graffiti.
"People just see the spray cans and judge you by the media you work in," he says.
"Graffiti to me is just another mural movement and I've been doing that since I was a kid.
"I used to work with my dad who was a sign painter. I used to paint the side of ice cream vans and the like so I didn't come at it from an underground graffiti perspective.
"I've just always wanted to paint murals and you'd be a fool not to use spray cans with the technology that's available and the speed and the effects."
One immediate supporter was the Provost Helen Moonie who decided it was just what Rozelle House needed. Even if it did risk offending older art patrons.
She says: "If they come to Rozelle to see what has been accomplished and see how absolutely amazing and innovative it is, they'll be impressed. And Rozelle House is just the right place for something which is of the moment, fresh and telling stories about its past."
But for those involved, a warm gallery with a blank wall was not the welcome it seemed. They preferred the spontaneity of working outside.
"My first thought was that I didn't want to do it," says Stephen Cuthbert.
"I didn't want to do trees, they're not exciting. I wanted to do cool things you see on telly, outside in the open air, not stuck in an art gallery."
But they - and other youngsters - were soon won over.
Stephen has since enrolled at college to study art. And the others have been boosted by the almost unanimous praise for the project.
"I think it has a varied audience here. There is a wide variety of age groups, not necessarily the sort of people graffiti would normally be aimed at," says Cameron Fisher.
"I first came here with my girlfriend and we heard old people talking about it and I had this sense of pride that this was my work," says Alexander McCallum.
"It also shows not all young people are vandals. It can be proper work. "
One person who was not so convinced was Councillor Bill Grant, whose ward takes in Rozelle House.
"I had flashbacks to cities I'd seen like Paris and Rome. I felt they were blighted by graffiti."
But now, he not only convinced, he's championing their work. Having covered every inch of the basement, they're looking for a new space and Councillor Grant has one in mind.
"We have a lovely railway tunnel in Alloway which is of significant length, fairly dry. It was used for trains from Ayr to Butlins holiday camp. It's used as a footpath and cycleway now and wouldn't it be lovely to replicate the Tam O'Shanter horse ride across the inner walls of the tunnel."