Pregnant women flu vaccine uptake in Scotland falls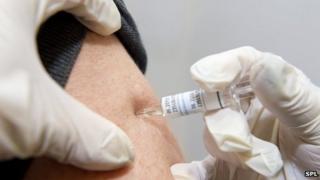 Pregnant women have been urged to take up the offer of the flu vaccine after figures showed less than half of mothers-to-be in Scotland were immunised last winter.
Scottish government figures showed only 48% of expectant mothers received the vaccine last year.
This was down from 53% for the previous year.
The vaccine is available to all mothers-to-be at any point during their pregnancy from October to March.
The figures also showed just 65% of pregnant women considered to be at-risk took up the vaccine in 2013/14.
This was down from 68.7% the year before.
The flu vaccine protects mothers from contracting flu but will also protect babies for several months following their birth.
'Safe and effective'
Public Health Minister Michael Matheson urged all women to strongly consider getting the vaccine if they become pregnant.
He said: "It goes without saying that all women want to do as much as they can to keep their baby safe and healthy during pregnancy, which is why it's concerning that less than half of mums-to-be were immunised this winter.
"The flu vaccine is safe and effective, and offers protection to both mother and baby.
"The Royal College of Midwives, Scotland's chief medical and chief nursing officers have all stated that the flu vaccine will protect both mother and baby at what is an extremely vulnerable time."
He added: "The flu vaccine cannot give you flu and all the experts agree on this. Not having the vaccine simply isn't worth the risk, for you or your baby."
The flu vaccination is available for free to people aged 65 and over, those under 65 with a condition that puts them at greater risk, pregnant women, unpaid carers and health workers.
Gillian Smith, director for Scotland at the Royal College of Midwives, said: "It is really important that pregnant women do get their flu vaccine and that midwives encourage them to do that.
"Women should be aware of the importance of having the seasonal flu vaccine as soon as they become pregnant.
"If any pregnant woman is unsure about this it is crucial they speak to their midwife or doctor. Don't leave it too late."
The figures revealed there was an increase in the number of at-risk under-65s getting the vaccine and uptake among those over-65 was at 76.9% - above the World Health Organisation target of 75%.