Polishing the brass: Scotland hosts European Brass Band Championships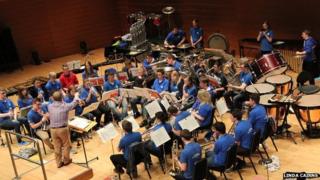 Brass bands may seem like a quintessentially British pastime, bound up in workplace bands and an industrial past which is now gone, but enthusiasts say that is far from the truth.
At the moment, Scotland is playing host to brass players from across Europe for the European Festival of Brass 2014.
Key events include the European Brass Band Championships in Perth and a series of community engagement events across the country during the longer festival period.
On the stage of Perth's Concert Hall, members of the European Youth Brass Band tune up ahead of rehearsals. There are trombones, horns, cornets and more - the instruments shine.
The band members come from across Europe with the purpose of sharing experiences and ideas and, along the way, forging friendships between young people who represent the future of brass music in their countries.
"It's a really nice experience to meet other young, talented people and play in a brass band together," says Xavier Kuypers, 19, from The Netherlands. He plays the tuba.
"I like the progression of our band because we've only played for two or three days together and it's really sounding nice."
Those views are echoed by another youth band member, trombone player, Lukas Winther Andersen, 20, from Denmark.
"You just play with a lot of very, very good players that have the same intention to come and get better," he says.
Brass bands mostly started up in Scandinavia and elsewhere in mainland Europe after World War Two. In Scotland they have a much longer history.
At their peak before World War One, it is reckoned there were 200-300 bands in Scotland.
By 2006 the number had reached a low point, in the 60s. Since then funding and a youth development plan among other things has seen that figure grow to 141.
The BBC has previously reported on how that was done.
"After the war many countries in Europe started up their own brass bands without an industrial base," says Andrew Duncan, the development manager at the Scottish Brass Band Association.
He adds that particularly in places like Norway and Sweden it is often in rural communities where they have most of their bands. Scotland too is looking at areas of the country where there is no tradition of brass bands.
"We've been able, through the funding, to go to communities where there wasn't a band before, and see if there's anyone there to run it, because of course there has to be people there, there has to be local champions, but we're finding that there are and it just takes that catalyst to make it work," says Mr Duncan.
As part of the wider festival, a group of musicians is undertaking the "Scottish Brass Band Trail."
It will take them to the Highlands and Islands to promote and share brass music in areas where there are no or few brass groups available.
As well as looking to the future of the genre a small exhibition at Perth Museum and Art Gallery explores its rich past.
"We'd go down the pit at six o'clock in the morning, six days a week," says Hugh Johnstone, 89.
He first became involved in the Dalmellington Band, in Ayrshire, 75 years ago and, as he walks round the exhibition, much of what he sees sparks memories.
"We'd come up at three and the four of us headed for the band hall," he continues.
"We went straight from the pit to the band hall, we had our pit clothes on and our black faces."
He recalls just what an important place the band had in Scottish life: "In the early days of course there was no television, there was no radio, bands got involved in church services, local parades, did concerts and our band back in the old days used to go on a Saturday afternoon and play on the village green and people went and danced - it was a way of life."
Scotland's brass bands were originally creatures of the industrial revolution started by factory owners and towns.
Andrew Duncan says it was thought to be a "very civilising thing" for working people to hear opera arias and overtures.
But he adds that industrial heritage has given brass bands a certain image in this country which does not take account of how things have moved forward. He wonders if films like Brassed Off have done the scene any favours.
"It sort of prolongs the image that brass bands have gone the way that industry has," he says. "And of course they haven't, they have survived, in fact increased in Scotland particularly.
"In Europe and interestingly enough in Japan, where it's a fairly recent thing, they don't have that baggage and it's just something that is an activity that they do and I think among the population as well they don't have that image of being fuddy duddy, old-fashioned, for them it's quite new, it's innovative."
Getting young people involved in brass music has become increasingly important in Scotland and beyond.
Hard at work, rehearsing with the European Youth Brass Band, Hannah Eve Roger, 19, from Wales, says brass music "becomes your life really".
"It's been a fantastic opportunity to learn new music as a group," she says of the trip to Scotland. "And also to meet new people from around the world, but to take that opportunity and to actually play in a band with them and learn and have rehearsals and get to know them one to one. Fantastic."