Fall in number of Scottish whooping cough cases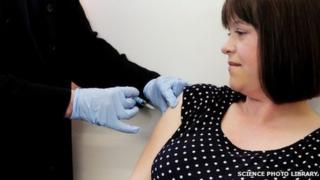 A whooping cough vaccination programme for pregnant women has been successful, according to a report.
Figures show that the programme reduced the number of cases in babies by about 85%.
Researchers found that 78% of pregnant women had been vaccinated against the disease in 2013.
The programme was originally launched in 2012 after a large outbreak of whooping cough in the UK.
The number of cases in children under one fell from 140 in 2012 to 19 in 2013.
During 2012, 1,926 laboratory confirmed cases of whooping cough in Scotland were reported to Health Protection Scotland, a 16-fold increase compared with the 119 reports in 2011. Incidence remained high in 2013 with 1,188 confirmed cases.
The latest information was presented by Health Protection Scotland's Dr Alison Smith-Palmer at this year's annual meeting of the European Society for Paediatric Infectious Diseases (Espid) in Dublin.
She said: "The reduction of around 85% in incidence among infants is an indication of the effectiveness of vaccinating pregnant women for reducing disease in those most susceptible to complications.
"This highlights the importance of pregnant women continuing to receive the vaccine as whooping cough persists at high levels in the community."