Scottish independence: Got a question for Brian Wilson and Michelle Thomson?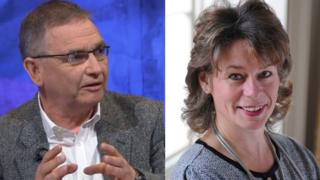 A former Labour minister and a pro-Yes businesswoman will be answering your questions in the latest webcast ahead of the independence referendum.
Brian Wilson served in Tony Blair's government from 1997 to 2003 and Michelle Thomson is the managing director of pro-independence business organisation, Business for Scotland.
Mr Wilson has been touring Scotland as part of the "Just say Naw" campaign alongside his friend and MP for Bradford West, George Galloway.
The former energy minister has been critical of the Scottish government's proposal to deliver 100% of Scotland's energy from renewable sources by 2020, and has written about Scottish independence in the Scotsman and Guardian newspapers.
Ms Thomson worked in the financial services industry for 23 years, before leaving to start up her own property management business, Your Property Shop.
She has said: "For too long, economic policies have not favoured Scotland nor encouraged the small and medium-sized enterprise sector on which Scotland's economic health depends.
"I hope that Scotland can once again take its place amongst the dynamic economies of Europe."
If you have something to ask the pair email newsonlinescotland@bbc.co.uk
Please put "Referendum questions" in the message field of your email.
People in Scotland will go to the polls on Thursday, 18 September, to vote in the independence referendum.
They will be asked the "Yes/No" question: "Should Scotland be an independent country?"
The interview with Mr Wilson and Ms Thomson will be published on BBC Scotland's news website.