Overall standard of home care improving, report says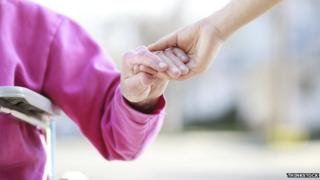 The standard of care delivered by home carers in Scotland has seen an overall improvement, says a new report.
The Care Inspectorate report looked at the results of three years of inspections of "home helps" and other homecare services.
It says 80% of these were found to be of a good standard, and an increasing proportion got top marks.
However, the body warned that the number of services judged to be performing badly has nearly doubled.
The report also found that the highest standard of care was more likely to be delivered by voluntary services, while those provided by the private sector were most likely to be poor, and to have complaints about them upheld.
'Welcome news'
Common problems included insufficient training for staff, poor care plans, erratic visiting times and understaffing.
Some services did not ask for up-to-date references or carry out proper checks on applicants' backgrounds.
Care Inspectorate chief executive Annette Bruton welcomed the results.
She said: "The findings show that many care at home services are provided at a good or very good level.
"This is welcome and shows that care at home services can, and do, achieve high quality of care.
"That said, too many services are still not providing the level and quality of care that we, and people using services, expect."