Money seized from criminals to fund new sporting pitches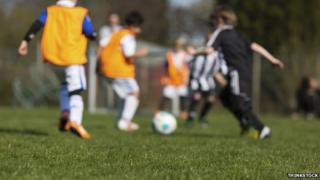 Money seized from criminals will be used to build all-weather sports pitches to encourage children to take-up sport.
The Scottish government has announced that almost £2m of recovered cash will be invested as part of CashBack for Communities programme
Six all-weather 3G pitches will be installed at the cost of £300,000 each.
Since 2007, the programme has been given £74m in funding from monies recovered from criminals.
Ministers hope that the scheme will encourage children from areas which experience anti-social behaviour and crime to take up sport as a hobby.
The pitches are to be built at Townhead Park in Cumnock, Marr Playing Fields in Troon, Castlehead High School in Paisley, Linlithgow Leisure Centre, Craigie Community Sports Hub in Dundee and Aberdeen Sports Village.
Applications for the funding were invited from local authorities and sports clubs and were assessed by sportscotland, Scottish Rugby, the Scottish Football Association and the Scottish government.
The latest batch follow an announcement in December of five other locations for the all-weather sports pitches.
'Perfect inspiration'
Since 2007, the CashBack for Communities programme has taken £74 million recovered through the Proceeds of Crime Act and invested in community, sport and cultural programmes, the government said.
Justice secretary Kenny MacAskill said: "This is a momentous year for sport in Scotland and the Commonwealth Games is providing young people across the country with the perfect inspiration for getting into sport.
"CashBack for Communities seizes money from some of the very worst of society and can provide those who have struggled at the start of their lives with fantastic personal and sporting opportunities.
"3G pitches can be used by every section of the community, young and old, however young people are very much our focus for this latest investment."
He added: "This scheme, introduced by this Government in 2007, has already invested or committed £74 million for projects and initiatives right across the country. This additional money will take the number of 3G pitches funded since 2007 to 77."
Sportscotland and environmental group Wren have also contributed to the funding of the 3G pitches.
Stewart Harris, chief executive of sportscotland, said: "We are delighted that another six projects are set to benefit from investment through the CashBack for Pitches fund.
"Sportscotland is committed to developing world-class facilities throughout Scotland, and this excellent collaboration between ourselves, the Scottish government and Wren is helping to achieve this goal.
"Scotland's sporting facilities are the best they have ever been, and today's announcement underlines our commitment to continue to invest in this area."