Record level of school leavers achieve 'positive outcome'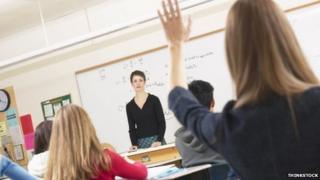 Record levels of pupils have achieved a positive career or educational outcome after leaving school this year.
Government figures show 90.0% of leavers were in a "positive destination" in March 2014, up from 89.5% last year.
Results for "looked after" children - those in full or part-time care - were 62%, up 17 points since 2009/10.
A record low of 1.5% left in 2012/13 without a qualification at Standard Grade Foundation or equivalent.
The figures, published by Scotland's chief statistician, showed there had been an increase in pupils taking a school meal, up from 49.5% in 2013 to 49.8% this year.
The percentage of pupils registered for free school meals had fallen from 19.6% in 2013 to 18.8%.
Exclusion rates among "looked after" pupils fell by 43% since 2009/10 - from 365 per 1,000 pupils to 209 per 1,000 - although the figure remained higher than for all pupils.