How are Americans celebrating the Fourth of July in Scotland?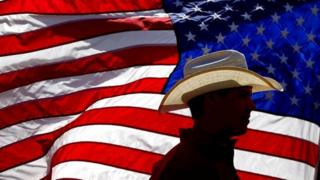 For Americans, the 4th of July means Independence Day.
Fireworks, BBQs and big family get-togethers typically define the national holiday. But what happens when you are far from home?
Seven US citizens now living in Scotland explain how they will mark the day and what they will miss about not being back in the States.
1. Mary de Bastos, 34, moved from Parkersburg, West Virginia to Motherwell six years ago and now lives in Aberdeen with her husband and young son.
"Celebrating Independence Day is a very big deal in West Virginia.
"We would walk down to the city park where there were rides and live music, and as the sun was going down my sisters, cousins and I would catch lightning bugs in glass mason jars and wait for the fireworks to start.
"My celebrations now are much more subdued. My husband is not American so I'm the only one in my home who feels the need to mark such an important day.
"We still have the annual BBQ but that is as far as it goes. Some of my best memories come from celebrating Independence Day with my family."
2. Michelle McAnally, 44 moved from Taylor, Mississippi to Oban a year ago, after marrying her Scottish husband.
"In the American South children and grandchildren from around the country go home to 'Mama's' for a three day weekend of festivities.
"My memories are of brilliant times with lots of catching up with my siblings and cousins for summertime fun like fishing, swimming and horse riding.
"Three big elements of a home-style American Independence Day celebration - barbeque, ice cold beer and shooting fireworks - are hard to come by in Scotland, but I think it's a good excuse to invite friends over for some American style food, with maybe a bonfire instead of fireworks. "
3. Kareena Kapitzke, 24, comes from Connecticut but has called Scotland home for the last five years, living in the Whiteinch area of Glasgow.
"For the Fourth of July back home we would typically have a BBQ and sit by our outdoor fire-pit during the afternoon.
"In the evening we would go down to the local park to watch a massive fireworks display put on by the town.
"I've lived here in Scotland for almost six years.
"I believe I have only celebrated it twice - once when I was visiting family in the USA and one time I was invited to celebrate with another American woman and her family living here in Scotland."
4. Alison Chino, 40, from Little Rock, Arkansas, has been living in Aberdeen with her husband and four children for almost a year.
"We always attend a huge potluck at our friends house, and in the evening we all go down to the Arkansas River and watch the fireworks and listen to a big brass band play traditional patriotic songs.
"This will be our first year to celebrate the 4th of July away from home.
"I always associate the 4th of July with being super hot in the summertime, so it will be strange to celebrate it in Scotland where, for a Southerner, the temperatures are always cool.
"It's also a school day for us, so it won't have that relaxed summertime feel. "
5. Brian Berman, 40, was born and raised in Fairfax, Virginia, later moving to Raleigh, North Carolina. He now lives in Glasgow with his wife and three-year-old son.
"Growing up just outside of Washington, D.C., we could choose between the big parade in D.C. and local parades in the suburbs.
"We would venture downtown in the evening to see the National Symphony Orchestra playing on the lawn of the U.S. Capitol building.
"These days it's more of a family celebration. I'll play some patriotic music, and as my three-year-old gets older we may buy some small fireworks ourselves, read a little bit of our Declaration of Independence, and discuss the history of the event.
"Perhaps our barbecues will expand from hamburgers and hotdogs to include some haggis and Irn Bru."
6. Todd Weller, 30 has moved around the US living in New Jersey, Southern California and Hawaii before moving to Scotland six years ago. He lives in Glasgow with his wife and 18-month-old son.
"We generally spent the day outside and either in our pool in the back garden or out at the beach.
"Our neighbours would all get together and have a big potluck celebration - water balloons, games, BBQ, plenty of desserts - all decked out in stars and stripes.
"On last year's 4th July my mum was out visiting so I think we made a wee cake with white frosting and some strawberries and blueberries to make up the US Flag.
"That is probably the most I've done since moving to Scotland."
7. Ryan Wenstrup-Moore, 34, comes from Cincinnati, Ohio, but has now lived in Scotland for 10 years. She currently lives in Glasgow with her husband and son.
"The big fireworks in my hometown took place later in the year but we'd normally have sparklers and a BBQ.
"I still celebrate it now even though I've been in Scotland for 10 years because I think it is important for my son to celebrate American holidays too.
"My celebrations tend to be a bit random or sometimes we celebrate it on different days if [me and my husband] are working.
"No big get-togethers or anything, but if the weather is nice I love to have a BBQ, although Scottish weather doesn't always cooperate."