Benefit sanctions 'used 898,000 times in Scotland'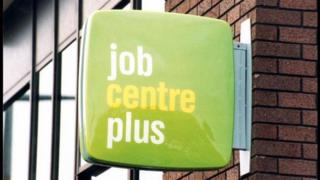 Out-of-work Scots had their benefits penalised on 898,000 occasions last year, a report has claimed.
Citizens Advice Scotland (CAS) has called for urgent changes to jobseeker's allowance and employment support allowance systems.
It said that cuts in payments had left an increasing number without money for food, heating or other essentials.
But the Department for Work and Pensions (DWP) insisted sanctions were only used as a last resort.
The system cuts payments if people fail to meet certain requirements, such as not attending jobcentre meetings or not doing enough to find work, with CAS reporting that 871,000 penalties were applied to claims for jobseeker's allowance alone during 2013.
It highlights the case of a man in the east of Scotland who had his benefits reduced to about £11 a week after sanctions were applied when he failed to attend an interview with a work programme despite producing a doctor's certificate to say he had been diagnosed with terminal cancer and was not fit to travel.
Food parcels
CAS said in its report:
The rate of jobseeker's allowance sanctions has more than doubled since 2010
94% of CAS advisors reported an increase in people seeking its help in the last two years because of benefit sanctions
97% of its advisors reported people going without gas or electricity, or skipping meals, after being sanctioned, with 94% saying people were requesting food parcels
60% of its advisers reported that people had not been told they were being sanctioned prior to their benefits money being cut.
97% of advisers said they had seen cases where penalties had been applied without taking into account people's reasons for not complying with benefit requirements
The first-level jobseeker's allowance sanction has risen from one week to one month since the end of 2012 and the maximum duration of a sanction rose from six months to three years.
CAS chief executive Margaret Lynch said: "I hope this report will prove to be a stark warning about the changes that urgently need to be made to the sanctions regime.
"Being sanctioned means your benefit money is stopped - from a minimum of a week to as long as three years.
"That is the money that you live on. The money that you use to heat your home, feed and clothe yourself and your family, pay your bills, pay for travel, to get to the jobcentre and to look for work."
CAS has called for a public review of the system and, in particular, a change to ensure claimants only lose a proportion of their benefits rather than the entire amount.
'Increasing employment'
It also urged the DWP to ensure people were informed in writing when sanctions were being considered and are put in place - and that there should be at least 10 working days' notice before a sanction is applied.
A DWP spokesman said: "The truth is that, every day, Jobcentre Plus advisers are successfully helping people off benefits and into work so they can secure their future and we have seen that, in the last year alone, employment in Scotland is up 48,000.
"Sanctions are only used as a last resort, but it's only right that people claiming benefits should do everything they can to find work, if they are able.
"We make it clear to people at the start of their claim what the rules are and that they risk losing their benefits if they don't play by them.
"The benefits system is there as a safety net for people at times of need and supports millions of people who are on low incomes or unemployed.
"People who are in genuine need can apply for hardship payments. If someone disagrees with a decision made on their claim, they can appeal."