High demand for Billy Connolly's Scottish tour dates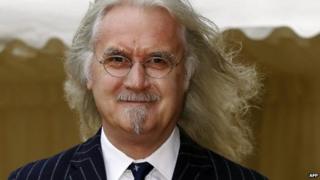 The demand for tickets for Billy Connolly's appearance at Edinburgh's Usher Hall was so great it crashed the venue's website.
Queues formed outside the venue and the Aberdeen Music Hall as fans sought to buy tickets for the comedian's High Horse Tour later this year.
The 2,600 tickets for his two Aberdeen dates sold out in 50 minutes.
Perth Concert Hall and Dundee Caird Hall have added second nights after selling out their first dates.
Tickets for Perth's first night sold out in 90 minutes.
Connolly will also perform at Glasgow SECC during his tour.
The tour is his first in Scotland for five years and comes after he revealed he had been diagnosed with Parkinson's disease and prostate cancer.
He has now been given the all-clear from cancer, and the 71-year-old has vowed to continue with his stage and acting work.
The website for the Usher Hall has been forced to close due to the high demand for tickets.
About 100 people have been queuing outside the box office to buy tickets directly from the venue.
Fans have been waiting for up to two hours with tickets restricted to six per person.
There have been reports of multiple transactions being made on credit cards without tickets being allocated. The Usher Hall has been working to rectify this.
Box office hits
In January 2012, the phones at Eden Court in Inverness were jammed because of demand for tickets for a talk by the Dalai Lama. All 1,300 tickets for his appearance sold out in 24 hours.
Also, in the Highlands, tickets for this summer's Belladrum music festival sold out in a record five months before the event happens.
Earlier this year, Aberdeen FC sold an allocation of 40,000 tickets for the team's Scottish League Cup final against Inverness Caledonian Thistle.
Just weeks later, Tayside football fans snapped up 26,000 tickets for the Scottish Cup final on the first full day of sales. Both Dundee United and St Johnstone saw large queues outside their ticket offices from the early hours.
An early morning queue formed outside the Aberdeen Music Hall.
Aberdeen Performing Arts press manager, Joyce Summers, said: "We knew this was going to be a busy day - the queue outside the Music Hall started at 4.15am."
"We sympathise with those who were disappointed, but we made every effort to maximise box office capacity and continually monitored the situation.
"The website struggled with the sheer volume of traffic at one point."
She added: "The previous fastest selling show at the Music Hall was for Emile Sande's first homecoming gig last year which sold out within 47 minutes - but that was for a single show."