Glasgow 2014: More village bug cases as toilet identified as source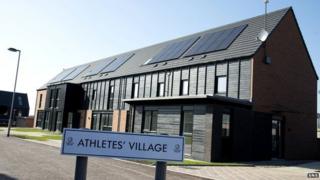 The number of security workers affected by an outbreak of norovirus at the athlete's village for the Commonwealth Games in Glasgow has reached 53.
Five new cases emerged on Saturday in addition to the 48 that had shown symptoms in the previous days.
Public health officials said the number of new cases of the gastrointestinal bug was declining
A temporary toilet, which was used by the workforce, has been identified as the probable source.
A statement from NHS Greater Glasgow and Clyde (NHSGGC) said a temporary toilet facility, used by a small number of the workforce, had been closed.
No athletes or team officials have reported symptoms.
Dr Gillian Penrice, consultant in public health medicine for NHS Greater Glasgow and Clyde, said: "As we would expect, the number of new cases is continuing to decline.
"Staff who have been symptom-free for 48 hours are starting to return to work and those who are still experiencing mild symptoms are not giving any cause for concern as a result of the virus."
She added: "Norovirus is the most common stomach bug in the UK and is usually mild and generally lasts for 24 hours.
"Village residents and workforce have been informed and issued with health information and we continue to monitor the situation closely."
The opening ceremony of the Glasgow 2014 Commonwealth Games takes place at Celtic Park on Wednesday.
Representatives from 71 nations and territories are staying at the athletes' village during the games.