Glasgow 2014: Top-secret high fives with fastest man on earth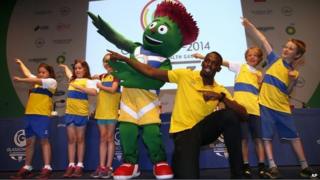 As the media gathered in a conference room at the SECC in Glasgow to await the arrival of the world's fastest man, five 10-year-old's were being let in on a secret.
The youngsters from Giffnock North Athletes Club in East Renfrewshire were going to strike a (lightning) pose for the cameras with Usain Bolt.
"My mum and dad said it was "top secret", so it was really awesome when we found out what we were doing," said Philippa MacConnell.
Adam Inglis added: "He's the fastest man on earth and I've watched him race lots on the TV. This was, like, a once in a lifetime opportunity."
The Jamaican sprinter touched down at Glasgow Airport on Saturday afternoon and was whisked into the city to face the usual media circus.
As the snappers jostled for position and the camera crews lined-up their shots, a tall recognisable figure took to the stage.
But it wasn't Usain, not yet, it was the other "face of the Games" - mascot Clyde - and accompanying him the five young runners.
"We were told we had to pose and do the Usain Bolt sign," said Caroline MacConnell, twin sister of Philippa. "But no-one said anything about Usain Bolt actually being there.
"Just two minutes before we went on stage, we were told he was actually coming on with us."
The Jamaican joined Clyde and the children for photos but had to quickly correct his pose as he was pointing the opposite way from the youngsters, who had clearly been briefed on the "right way" do his famous sign.
"I'll tell my friends that I got to shake Usain Bolt's hand and that I got to see him and I don't think they will believe me," said Eva Barbour.
The children are all keen runners, training and competing in both sprints and long distance races with their local club.
"I would say I'm very good at running," said Clark Marshall, who seemed confident he could one day maybe emulate Bolt's success.
And their overriding impression of the fastest man on earth?
"He's massive. He's really, really big," said Clark.
"You had to really stretch your head up to look at him," added Caroline.
"When he put his hand up above his head for a high-five, my sister had to jump up to reach him.
"I was so excited to meet him. You don't really imagine, on just one normal day, you will meet someone so really famous - and really tall."