Glasgow 2014 round-up: Day Three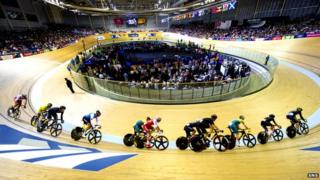 The Commonwealth Games is 11 days of non-stop action.
With 4,000 athletes, 261 medal ceremonies and 71 teams, it can be easy to lose track.
But, don't worry, as each day passes we'll give you a round-up of the winners, the losers, and what you've been saying about it all on social media.
So, here's what happened today.
The Winners
It was a glorious day for Scottish judo, as their competitors clinched a magnificent five medals.
Gold medals went to Chris Sherrington, Sarah Adlington and Scotland's flag bearer, Euan Burton, while Matt Purssey won silver and Andy Burns took bronze.
Neil Fachie and Craig MacLean continued their success on the track as they secured their second gold medal of the Games by beating Australia in the Men's Para-sport Sprint B2 Tandem.
Lawn Bowls secured its first award of the Games, in the form of silver from the VI B2/3 Pairs category.
Meanwhile, there was another silver when Drew Christie triumphed in the Men's Skeet event at Barry Buddon Shooting Centre and Ian Shaw and Angus McLeod won bronze in the full bore event.
Man of the moment Ross Murdoch then ended a packed evening on a high by earning the host nation another swimming medal - this time bronze in the 100m Breaststroke.
Another winner is Mr Boyd Tunnock, whose teacakes have been selling like hotcakes since the opening ceremony.
The Losers
Glasgow 2014's rugby sevens kicked off at Ibrox Stadium.
One of the bigger mismatches we witnessed was Australia v Sri Lanka, which ended in 62-7 drubbing for the islanders.
However, the biggest cheer came with Sri Lankan Sandun Herath's try, which brought the score to 50-5.
Scottish crowds love an underdog and they gave the Sri Lankans a standing ovation.
The Medal Table
Scotland remain in third place at the end of day three, after upping their tally to 25.
England are pushed down to second by Australia.
Wales saw their fortunes improve, as they jumped from 10th to 8th.
Keep up with the medal table here.
Tweets of the Day
1. "You know where we at."
The fastest man on Earth, Usain Bolt, announced his arrival in Scotland by tweeting the above picture of a kilted piper. Welcome to Scotland, Mr Bolt.
2. "Biggest roar of the day at Ibrox. Bloke proposes to his girlfriend on the big screen. She said yes. Phew!"
Tom English tweeted about one of the most romantic moments of Glasgow 2014 so far.
3. "Thanks to every single person who has been part of my journey. Most of the time it's been pretty bumpy. Yesterday, a little smoother."
Gold-winning Scottish judoka Sarah Clarke tweets her thanks.
Highlight
When the Games are over, there will be few athletes with a story like Chris Sherrington's.
Following a traumatic experience in Iraq, he returned to the UK and remembered he had participated in judo as a kid, so decided to get back into it again to help relieve the stresses of his time at war.
Here he is with a gold medal in his hands after an incredible win on home soil.
Have you spotted something which should be in tomorrow's Glasgow 2014 round-up? Tweet us using #bbcglasgow2014, or message us on Facebook.