Glasgow 2014: Jamaican medallists enjoying life at the Commonwealth Games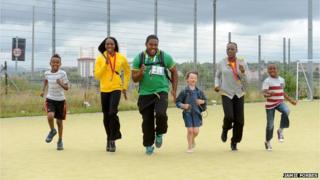 Three stars of the Jamaican athletics team said they were enjoying life in Glasgow while meeting local schoolchildren.
On the day it was claimed Usain Bolt made disparaging comments about the Commonwealth Games, gold medallists Kimberly Williams, O'Dayne Richards and 400m silver medallist Novlene Williams-Mills presented prizes to youngsters in the north of the host city.
All three athletes explained how they are enjoying themselves in Scotland, even if it is a little cold for them.
Williams-Mills said: "The track is really good and the crowd are great. It is a great atmosphere for the Commonwealths - not my type of weather, but it was great."
The silver medallist said she had not ventured outside of the athletes' village but loved the opportunity to help inspire the next generation of athletes at the prize giving.
Richards, meanwhile, said the Commonwealth Games in Glasgow was "right up there with every other Games I have been to".
He added: "(The) atmosphere is so charged. The crowd were into it and responded when asked for support. "
When asked how he was finding Glasgow life, the shot put Commonwealth champion responded "A little bit chilly from what I am used to."
For Williams, Glasgow 2014 has represented one of the highlights of her career following her triple jump gold medal.
She said: "It (Hampden) reminded me of the Olympics. At London, the crowd was just like that. They were into the event.
"It didn't matter which country you were from, they joined in and cheered you on.
"I got here last Wednesday and the first three days it was sunny and I loved Glasgow. Then I spoke to my friend and he said it was going to rain. I felt sad.
"It is bearable, I just need to wear a lot of clothes to survive," she laughed. "The people here are so friendly.
"We have everything we need. Life is good in the village."
Williams also said the mood in the Jamaican camp was buoyant after gold medals for her, Andrew Riley (100m hurdles) and Stephanie McPherson (400m) on Tuesday.
"All the medals we got yesterday was great for us," she added.
"People who haven't competed yet are highly motivated as they want to hear the anthem played."
Around 60 schoolchildren and their parents had the opportunity to meet the Jamaican trio in the Keppoch Campus on Wednesday.
The children - who were from three local primary schools - were all at a summer school run by NG Homes and the Celtic FC Foundation. The athletes awarded the children for their efforts at the school.
Mark Wilson was there with his six-year-old son Reece, who is a keen shot putter.
Mark said: "I think the kids really, really enjoyed it. It was a surprise to meet them and it gives them a chance to see real athletes close up.
"Reece was overwhelmed to see the shot put guy as he has been practicing all week."
Greg Cann, a Sports Legacy Coordinator from North Glasgow Homes, said: "I have spent five weeks with them, trying different sports and new things.
"It always great to see athletes or people they aspire to be. Sometimes, for guys in this area, they may never meet international athletes. It was so inspiring for them."