Scottish independence: UK and Scottish governments release new leaflets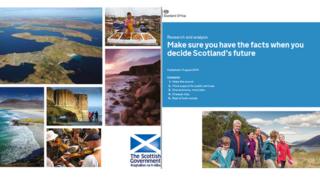 The Scottish and UK governments are each releasing new leaflets in the run-up to the independence referendum vote.
Public responses to the debate have continually highlighted a desire for more information.
The Scottish government's guide will "make it even easier to get key facts quickly", Deputy First Minister Nicola Sturgeon said.
Scottish Secretary Alistair Carmichael said the UK government's leaflet would help in making "an informed decision".
'Get it right'
Households can expect to receive the two new publications through their door in the coming week, as both sides step up their campaigns with less than 50 days to go until the vote.
Mr Carmichael said the leaflet would provide people with "credible and reliable information" to help them make their decision and is also being made available online, and in large print, audio and braille.
The guide - which had a production cost of about £300,000 - highlights what the UK government believes to be the five main benefits of Scotland remaining in the UK, including keeping the pound, continued support for public services and more devolved powers for Scotland.
Mr Carmichael said: "We are only weeks away from the most important decision we will ever make as a country. A decision to leave the UK is forever and cannot be reversed. We need to make sure we get it right.
"People in Scotland need to have the facts before they vote on September 18th.
"With every passing week it becomes ever clearer the Scottish government has not thought this through properly. They are blinded by their passion for independence. They have no plan on currency, no plan on pensions and no idea how much it would all cost."
'Informed choice'
The Scottish government's guide - What Independence Means for You - will argue that independence would bring greater financial security for families as well as creating new job opportunities.
Residents of Scotland's islands will get their own version of the guide, published in both English and Gaelic, focusing on how they could be "empowered by the opportunities of independence".
Fifteen different online language versions of the guide, as well as audio and Braille versions, will also be available to view the Scottish government website.
The Scottish government said that the leaflet drop would cost £550,000.
Ms Sturgeon said: "It is crucial that everyone in Scotland is armed with the facts and has a clear picture of the opportunities to change their lives for the better with independence.
"Scotland has the people, skills and resources to be a strong independent country, and this guide will set out how we can build on that.
"It is essential that all voters have the chance to make an informed choice on September 18 and this guide will help to ensure that this is the case."