Scottish independence: Push for university students to register for vote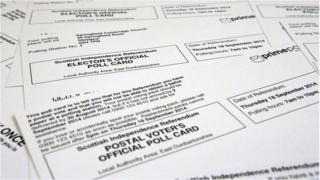 University students are being urged to make sure they do not lose their right to vote in the independence referendum.
The Electoral Commission says they must already be resident at an address before they can register to vote there.
The deadline to register is next Tuesday but the majority of university students are unlikely to be at their term-time address by then.
This means students may have to register to vote at their home address and arrange a postal or proxy vote.
Students at Scottish universities who are living away from home in term time can usually go on the voters' roll at their permanent address and at their term-time address.
However, at this point in the summer, many students are still looking for a place to stay next term and most people about to start university are still at their family home.
Proxy vote
Normally this is not an issue at the start of term as it is unusual for elections of national importance to take place at this time of year. The last major vote in September was the devolution referendum in 1997.
If students are living at their full term-time address by the deadline for registration on 2 September they can register to vote there.
Those who will not be at their term address on 2 September can still register at their permanent home address if they have not done so already.
They should then decide whether to return home to vote on the 18th - or arrange a postal or proxy vote. Applications for these have to be made by 3 September.
At some institutions, including Glasgow University, the referendum takes place in the middle of Freshers' Week, just as new students are arriving.
The Students' Representative Council at Glasgow University says it has been taking proactive steps to help ensure students do not lose out - for instance by sending out information in the welcome pack to new students.
The issues facing students also highlight some practical issues which make the referendum distinct from normal elections.
Most obviously, some students will still be under 18 when they start university. While they would not be eligible to vote in other major elections they will be able to vote on referendum day if they are 16 or over.
Students from other parts of the UK and EU who are living at a term-time address in Scotland on 2 September can register to vote in the referendum.
But a student from Scotland who is studying in England, Wales or Northern Ireland - or going abroad as an exchange student - would need to arrange a postal vote or proxy if they were not going to be at their home address on the 18th.
More information is available on the website aboutmyvote.co.uk