Personal pleas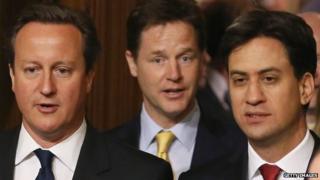 Different perspectives. Different pitches. Different leaders. Different venues. But a common thread.
David Cameron, Ed Miliband and Nick Clegg all campaigned in Scotland today urging people to reject independence.
There was a notably personal thread.
For example, David Cameron said he would be "heartbroken" if Scotland opted for "separation", as he styled it.
Ed Miliband spoke of his parents who had come to Britain as refugees from the Nazis.
That choice of tone is revealing.
It suggests, once again, that the Better Together campaign acknowledges that stressing the economic downside, as they see it, may not be proving entirely successful in swaying votes.
'Chief focus'
It is not that the economic argument is in abeyance.
Today we had suggestions again from Standard Life that they might transfer accounts to England in the event of independence.
We had one hundred new business signatories for "Yes".
We had claim and counter-claim about North Sea oil.
The business argument is out there. It is live. It is salient.
But it was not the chief focus of the three leaders - who had deserted their customary Wednesday berth of prime minister's questions at Westminster to join the debate in Scotland.
Consider the PM. He was in an Edinburgh finance house, speaking to staff.
Yes, he made references to issues like pensions - arguing for UK funding - but his pitch was decidedly personal.
He would work with an independent Scotland - but preferred not to face the prospect.
It might suit his party, some claimed, to dispense with Scotland and win elections in England more easily. That was not for this Prime Minister.
Indeed, he resorted to a decidedly demotic description when he said he understood that, in an election, people might choose to get rid of "the effing Tories".
'Lasting referendum'
This was different. This was a lasting referendum, not a quinquennial choice.
Speaking in Cumbernauld, Mr Miliband, understandably, offered a rather different prospectus: a "contract with Scotland" which featured, as item one, ousting David Cameron from Downing Street.
This partly explains why today was not a joint appearance on a single platform.
The Miliband perspective was that he endorsed the Union from head, heart and soul: a pragmatic attempt to build a more egalitarian society; an emotional appeal to "the ties that bind us together"; and the soul of solidarity, expressed through institutions like the NHS.
In the Borders, Nick Clegg added his voice, arguing that in his constituency of Sheffield - and across the rest of the UK - people cared "passionately" about maintaining the constitutional link with Scotland.
All three leaders restated their pledge to introduce more powers - yet to be precisely specified but available in disparate party offers - under the timetable set out by Gordon Brown.
'Team Scotland'
And the response from Alex Salmond? A piece of choreography of his own, to match the triple UK leadership pitch.
Supporters of independence gathered together in Edinburgh - including supporters outwith the SNP.
Mr Salmond was cordially greeted by Jim Sillars. The two have not always been, let us say, in complete harmony in the past.
It was a physical demonstration of unity - and, of course, Mr Salmond sought to contrast it with his opponents whom he caricatured as Team Westminster. The "Yes" supporters, he said, formed Team Scotland.
More to come. Much more.